Soldier Honored: Paul A. Sweeney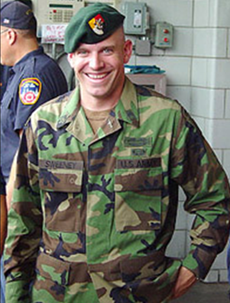 Dates:
Hometown:
Branch of Service:
Army
Rank:
Staff Sergeant
Staff Sergeant Paul A. Sweeney, 32, of Lakeville, Penn., was assigned to the 3rd Battalion, 3rd Special Forces Group, at Fort Bragg, N.C., and served during Operation Enduring Freedom. On October 30, 2003, Staff Sgt. Sweeney was killed when his unit was ambushed while on patrol north of Musa, Qalax in Afghanistan.

Staff Sgt. Sweeney was the fourth in a family of ten children. He attended Roselle Park High school, where he was on the wrestling team, and graduated in 1989. He joined the Army in 1991 and was a tanker for his first two years before switching to infantry. He would lead an honorable career, serving two tours in Afghanistan, a tour in Iraq, a tour in South Korea and two tours in Germany. Staff Sgt. Sweeney was awarded the Bronze Star with "V" for Valor, the Silver Star, the Special Forces Tab and a host of other medals, ribbons, and commendations. Additionally, he was awarded a Purple Heart Medal posthumously. Staff Sgt. Sweeney would later be referred to a "proven combat warrior" and a "leader of leaders."

"Paul was an easygoing guy who was quick to make friends, loved the New York Yankees, New York Giants, and the New Jersey Devils," one family member said. "He watched the History Channel, listened to heavy metal music, loved playing darts, and enjoyed eating his favorite meal – Stromboli with no mushrooms."



Both of Staff Sgt. Sweeney's sons are Folds of Honor Scholarship recipients.