Soldier Honored: Chad M. Trimble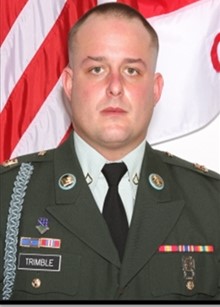 Dates:
Hometown:
Branch of Service:
Army
Rank:
Private First Class
Private First Class Chad M. Trimble, 29, of West Covina, Calif., was assigned to the 1st Squadron, 61st Cavalry Regiment, 4th Brigade Combat Team, 101st Airborne Division (Air Assault), Fort Campbell, Ky., and served during Operation Enduring Freedom. On May 28, 2008, PFC Trimble was killed when his vehicle encountered an improvised explosive device near Gardez, Afghanistan.

A 1996 graduate of Covina High School, PFC entered the Army in October 2006, fulfilling his dream of becoming a soldier to serve his country and give his family a better life. PFC Trimble's awards and decorations include: a Bronze Star Medal, a Purple Heart Medal, a National Defense Service Medal, a Global War on Terrorism Service Medal and the Weapons Qualifications, M4, expert.

PFC Trimble was the kind of boy who could not be kept inside. He was always outside with the older boys in the neighborhood, and, as he grew up, he "tried every sport there was," his mother said. He also loved fishing with his father. Once he became a dad himself, he continued the tradition with his own girls, taking them camping at Southern California lakes. Indoors, he showed a more serious side. His mother often found him watching the History Channel and National Geographic channel, and he "was always aware of what was going in the world," she said.

Both of PFC Trimble's daughters are Folds of Honor Scholarship recipients.