Soldier Honored: Paul M. Kelly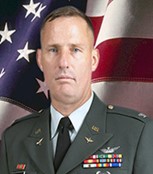 Dates:
Hometown:
Branch of Service:
Army
Rank:
Colonel
Colonel Paul M. Kelly, 45, of Stafford, Va., was assigned to the Joint Force Headquarters of the Virginia Army National Guard in Blackstone, Va., and served during Operation Iraqi Freedom. On January 20, 2007, Col. Kelly was killed when his UH-60 Blackhawk Helicopter crashed in Baghdad, Iraq.

A graduate of Carroll High School, Col. Kelly attended the University of Dayton and was commissioned in 1982 as an officer in their ROTC program. He spent his career in staff and leadership positions with the National Guard, serving in Ohio, South Carolina, and Virginia. Col. Kelly was posthumously awarded the Purple Heart, the Bronze Star medal and the Legion of Merit medal.

Col. Kelly was nicknamed "the Senator" because he was always shaking soldiers' hands, no matter their rank, colleagues said. SFC Arturo Robinson remembered how years ago, when he was getting into disciplinary trouble, Col. Kelly told him to take a hard look at the way he was acting. It was the sort of command that officers give their soldiers all the time and often it goes ignored. But something about the way Kelly said it, firmly but with respect, got through to SFC Robinson. "He saved my career," he said. "I would walk behind him in any war, in any place."

Col. Kelly's son is a Folds of Honor Scholarship recipient.