Soldier Honored: Christopher A. Celiz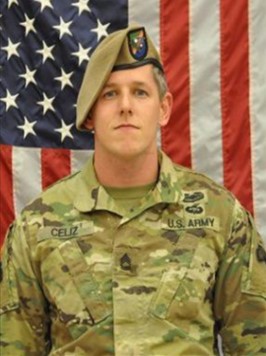 Dates:
Hometown:
Branch of Service:
Army
Rank:
Sergeant First Class
Sergeant First Class Christopher A. Celiz, 32, of Summerville, S.C., was assigned to Company D, 1st Battalion, 75th Ranger Regiment, Hunter Army Airfield, Ga., and served during Operation Freedom's Sentinel. On July 12, 2019, SFC Celiz died of wounds sustained from small arms fire while conducting operations in support of a medical evacuation in Zurmat district, Paktiya province, Afghanistan.

SFC Celiz attended Summerville High School, where he participated in JROTC. He enlisted in the U.S. Army in September 2007. He served with 1st Battalion as the Battalion Master Breacher and engineer and then later as a mortar platoon sergeant with Company D. At the time of his death, SFC Celiz was serving as the battalion mortar platoon sergeant and was in the process of reclassifying to the infantry branch. SFC Celiz was posthumously awarded the Meritorious Service Medal, Bronze Star Medal, and the Purple Heart.

"SFC Celiz was a great Ranger leader, and he will be sorely missed by 1st Ranger Battalion. He had an incredibly positive attitude that inspired Rangers throughout the formation," said LTC. Sean McGee, Commander, 1st Bn., 75th Ranger Regiment. "SFC Celiz led from the front and always put himself at the decisive point on the battlefield. He and his family have been an important part of the fabric that represents 1st Ranger Bn. and the community."

SFC Celiz's daughter is a Folds of Honor Scholarship recipient.