Soldier Honored: Jeffery S. Brown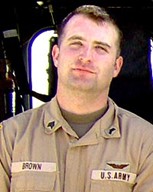 Dates:
Hometown:
Branch of Service:
Army
Rank:
Sergeant
Sergeant Jeffery S. Brown, 25, of Trinity Center, Calif., was assigned to the 82nd Medical Company, Air Ambulance, at Fort Riley, Ks., and served during Operation Iraqi Freedom. On August 8, 2006, Sgt. Brown was declared Duty Status Whereabouts Unknown when his UH-60 Black Hawk crashed into a lake near Rutbah, Iraq. His remains were recovered on August 10, 2006.

Sgt. Brown started as a fullback on the football team that won the Northern California State Championship at Trinity High School, where he graduated in 2000. He enlisted in the Army the following July and was on his second deployment to Iraq in support of Operation Iraqi Freedom when he passed. Army officials told Sgt. Brown's family that he would receive a Bronze Star and an Air Medal for his work aboard the aircraft. The officials said they believed Sgt. Brown had made a heroic effort to land the Black Hawk.

Sgt. Brown was an outdoorsman, loved riding motorcycles and came to embody California's "laid-back" lifestyle among his peers. Dan Ledbetter, a fellow soldier, said, "Flying and pulling duty with you was always such a joy. Smiling, happy and playing the guitar is how I'll remember you."

Sgt. Brown's wife is a Folds of Honor Scholarship recipient.