Soldier Honored: Grant A. Dampier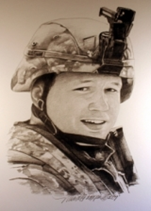 Dates:
Hometown:
Branch of Service:
Army
Rank:
Private First Class
Specialist Grant A. Dampier, 25, of Merrill, Wisc., was assigned to the 1st Battalion, 8th Infantry Regiment, 3rd Heavy Brigade Combat Team, at Fort Carson, Colo., and served during Operation Iraqi Freedom.  On May 15, 2006, Spc. Dampier was killed when an improvised explosive device detonated near his vehicle during combat patrol operations in Baghdad, Iraq.A 1999 graduate of Merrill Senior High School, Spc. Dampier worked for Marathon Electric in Wausau, Wisc., before enlisting in the Army in September 2004. He was deployed to Iraq more than a year later in December 2005.  Spc. Dampier was posthumously awarded a Purple Heart Medal, the Bronze Star Medal, the Army Accommodation Medal and the Army Good Conduct Medal for his sacrifice.

Spc. Dampier enjoyed fishing with his daughters, watching the Green Bay Packers, truck racing and his car. "He loved tattoos," said his mother. "He had the footprints of his two older daughters tattooed on his back. He planned to get the footprints of his youngest upon his return. He used to say they walked all over him anyway, so he might as well carry that with him forever."

All three of Spc. Dampier's daughters are Folds of Honor Scholarship recipients.