Soldier Honored: Matthew W. Bancroft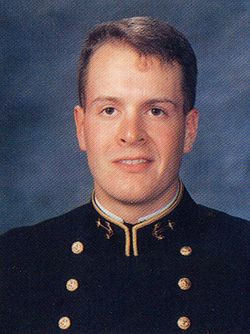 Dates:
Hometown:
Branch of Service:
Marine Corps
Rank:
Captain
USMC Captain Matthew W. Bancroft, 29, of Redding, California, was assigned to Marine Aerial Transport Refueler Squadron 352, based at Marine Corps Air Station in Miramar, California and served during Operation ENDURING FREEDOM. On January 9, 2002, Captain Bancroft and six fellow Marines were killed in a refueling tanker crash in Pakistan.

Captain Bancroft grew up in Burney, a tiny town in the wooded mountains of Northern California. He tutored other students, and continued to have the best grades in school, while lettering in three sports. As a junior, having virtually exhausted Burney High School's curriculum, he began taking college-level classes. He graduated high school in 1990 and attended the United States Naval Academy, where he earned a Bachelor of Science in Economics in 1994. He reported to Naval Flight Training in Corpus Christi, Texas and earned his "Wings of Gold" in 1996.  After working as an Adjutant, Legal Officer and Flight Duty Officer, he transferred to Marine Aircraft Group Eleven as the Fixed Wing Air Coordinator. Captain Bancroft was a Transport Plane Commander, Post Maintenance Check Pilot, and a Section Flight Lead. He had accumulated more than 1500 total flight hours with 1300 flight hours in the KC-130.

John Knox, the best man at Capt. Bancroft's wedding, said his friend was "gracious, sincere, compassionate, jovial and very sarcastic."  Father Manuel Canal, added, "This young man went on a mission that will never end, a mission of peace, justice and love."

Captain Bancroft's wife and daughter are Folds of Honor Scholarship recipients.