Soldier Honored: Gary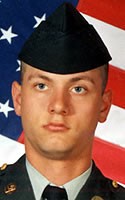 Dates:
Hometown:
Branch of Service:
Army
Rank:
Sgt.
U.S. Army Sergeant Gary A. "Andy" Eckert, Jr. of Toledo, Ohio, was assigned to the 983rd Engineer Battalion, U.S. Army Reserve, Monclova, Ohio where he was serving as a carpentry and masonry specialist.  On May 8, 2005, SGT Eckert died of injuries sustained earlier in the day when an improvised explosive device detonated near his Humvee in Samarra, Iraq.  He was 24 years old.

A graduate of Anthony Wayne High School, Gary Eckert enlisted in the Army Reserve in 2001.  After completing Basic Training at Fort Leonard Wood, Missouri and AIT at Gulfport, Mississippi he was assigned to Monclova, Ohio.  In 2003, SGT Eckert was activated as an Individual Augmentee for a Regular Army Engineer Battalion and deployed to Iraq with that unit.  During the deployment he was wounded by shrapnel from an IED, sent home to recuperate and was awarded the Purple Heart and Bronze Star with a V for Valor.  After recovering from his injuries SGT Eckert's reserve unit was once again activated and deployed to Iraq.  While there, he would ask female soldiers to show him how to braid hair, so he would be able to handle his daughter's hair when he returned home.  "We're never going to let his children forget who their daddy was," said a family friend.  "That's the goal from now on; to keep his spirit alive." SGT Eckert was posthumously awarded a second Purple Heart and the Bronze Star.

He is survived by his wife and two children, who are both Folds of Honor scholarship recipients.