Soldier Honored: Matthew L. Ingram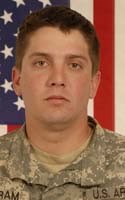 Dates:
Hometown:
Branch of Service:
Army
Rank:
Sgt.
Sergeant Matthew L. Ingram enlisted in the Army in the summer of 2003 and was assigned to 2nd Battalion, 12th Infantry Regiment, 4th Brigade Combat Team, 4th Infantry Division out of Fort Carson, Colorado. The Pearl, Mississippi native loved to paintball and ride his restored Harley Davidson motorcycle in his free time.  His military career was influenced by his mother's fiancée who was a Colonel in the Army's medical corps.

On August 21, 2009, SGT Ingram's unit was called off base at 3:00 am to investigate a disturbance in the village of Chapa Dara, Afghanistan. Upon arrival, their vehicle was bombarded with small-arms fire and rocket-propelled grenades from enemy forces in what appears to have been a planned ambush.  Reports released to the family said that SGT Ingram was the first American hit in the attack that also killed four other soldiers.  He was 25 years old.

Seeing the military as a way up and out of the small southern town in which he was raised, SGT Ingram had aspirations of living in a big city one day.  He was remembered by family members as a leader who loved his country, a father who loved his family, and a small-town Mississippian who wanted to see the world. SGT Ingram received a Purple Heart from injuries suffered when a grenade detonated inside his Humvee during his second tour in Iraq. He proudly displayed the medal to his family while on leave, stating that it was his most prized possession.

A Mississippi congressional delegation co-sponsored a bill naming the Hickory, Mississippi post office after SGT Ingram.

He is survived by his wife and daughter, who was 10 months old at the time of his death.  His daughter is a Folds of Honor scholarship recipient.