Soldier Honored: Marcus A. Golczynski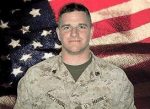 Dates:
1977-March 27, 2007
Hometown:
Lewisburg, Tennessee
Branch of Service:
Marine Corps Reserve
Rank:
Staff Sergeant
Staff Sergeant (SSG) Marcus Golczynski, 30, was from Lewisburg, Tennessee where he served as a member of the Marine Forces Reserve's 3rd Battalion, 24th Marine Regiment, 4th Marine Division in Nashville. He was only two weeks away from the end of his second deployment in Iraq when he died from wounds received while conducting combat operations in Anbar Province on March 27, 2007. SSG Golczynski joined the Marine Corps in 1995 and served 12 years as a reservist. "Marc knew what was worth fighting for and had the courage and strength to fight for it," said his family.

A 1995 graduate of Marshall County High School, SSG Golczynki was in the marching band and served as the school's mascot. He was also on the wrestling team and recognized as the sixth best wrestler in the state during his senior year.

SSG Golczynski is survived by his wife and son, who is now in college and a Folds of Honor Higher Education scholarship recipient.