Soldier Honored: Joshua M. McClimans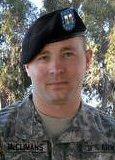 Dates:
1981-April 22, 2011
Hometown:
Jamestown, Pennsylvania
Branch of Service:
Army
Rank:
Captain
Captain Joshua McClimans, 30, from Jamestown, Pennsylvania, didn't get much time alone with his fiancé, but when he did he would play the song "Johnny and June" by Heidi Newfield and they would slow dance together in their kitchen.
His last assignment was the 848th Forward Surgical Team, U.S. Army reserve, Twinsburg, Ohio, where he worked as a nurse. CPT McClimans was killed on April 22, 2011 at Forward Operating Base Salerno, Afghanistan by a sniper when insurgents attacked his unit with indirect fire. This was his second deployment.

A 1998 graduate of Jamestown High School, CPT McClimans was a star athlete – particularly in wrestling. He also played baseball and ran cross country track. CPT McClimans attended Kent State for about a year before transferring to Akron's ROTC program to become an officer in the Army. His 7-year-old son looked like his smaller identical twin and was proud to be the son of a soldier.

CPT McClimans is survived by his fiancé and son, who is a Folds of Honor Children's Fund scholarship recipient.