Soldier Honored: Benjamin J. Palmer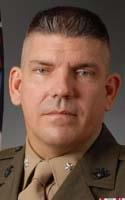 Dates:
1968-2011
Hometown:
Modesto, California
Branch of Service:
Marine Corps
Rank:
Lieutenant Colonel
Lieutenant Colonel (Lt. Col.) Benjamin Palmer, 43, was three weeks into a yearlong deployment and was very close to reaching his 25-year mark as a Marine, serving with the Wing Headquarters Squadron 2, 2nd Marine Aircraft Wing, II Marine Expeditionary Force, Cherry Point, North Carolina. He had just sat down for lunch with other members of a Marine advisory team inside an Afghan police compound when a gunman dressed in an Afghan police uniform opened fire, killing Lt. Col. Palmer and one other.

A 1986 graduate of Downey High School in Modesto, California, Lt. Col. Palmer enjoyed playing the soprano bugle with the Sacramento Freelancers Drum and Bugle Corps. He thought of joining the Marines in hopes of becoming part of its elite drum and bugle corps. Instead, he joined the Marine Corps on May 15, 1986 and became a specialist in air command and control – eventually rising to the rank of Lieutenant Colonel. Palmer earned a Bachelor's degree from California State University – Sacramento and a Master's degree from the University of Central Michigan. "He had a strong sense of duty and of helping others," his mother, Linda Palmer, told the Modesto Bee.

Lt. Col. Palmer was known as a "Marine's Marine" who always looked out for those around him even if they were not in his command. He led a decorated career and served in many different capacities throughout the Marine Corps. Palmer is survived by his wife and three children. One of his daughters is a Folds of Honor Children's Fund scholarship recipient.