Soldier Honored: Alan Rowe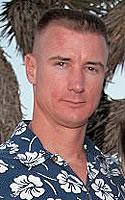 Dates:
1969-September 3, 2004
Hometown:
Gooding, Idaho
Branch of Service:
Marine Corps
Rank:
Captain
A weapons company commander for the 1st Battalion, 7th Marine Regiment, 1st Marine Division, 1st Marine Expeditionary Force, based out of Twentynine Palms, California, Captain Alan Rowe, 35, of Gooding, Idaho, was a veteran of four overseas deployments and was sent to Iraq in August 2004. A few short weeks later, on September 3, 2004, Rowe and two other Marines were killed by a remote-controlled explosive device while inspecting a secured bridge in Anbar Province, northern Iraq, near the Syrian border.

A 1985 Marine Corps enlistee, Captain Rowe graduated from Gooding High School. He then attended the College of Southern Idaho and Boise State University where he earned a degree in political science. In 1994 he graduated from officer candidate school.

"He was a quiet, humble person and extremely polite," according to his widow. "He was really driven and believed in what he did. He was a Marine's Marine," added a close friend. Captain Rowe was posthumously promoted to the rank of Major after his death. He leaves behind a wife and two children who were Folds of Honor Children's Fund scholarship recipients.