Soldier Honored: Joshua Bullis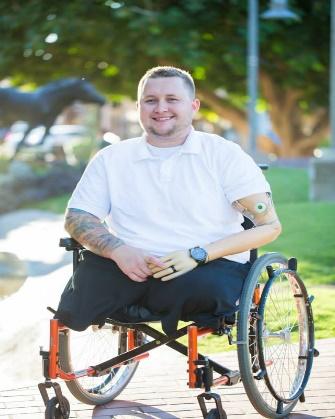 Dates:
Wounded
Hometown:
Arizona
Branch of Service:
Army
Rank:
Specialist
Specialist Joshua Bullis served in the United States Army under the 595th Sapper Company, 2nd Engineer Battalion out of White Sands, New Mexico. While on his first tour overseas in Kandahar Province, Afghanistan, on September 19, 2010, Specialist Bullis stepped on an IED (improvised explosive device) costing him both legs above the knees and his left arm above the elbow. Bullis spent seven days in a medically induced coma in Germany before returning stateside to begin his surgeries and stabilization. Bullis spent three months at Walter Reid Medical Center in Washington D.C. where he underwent 20+ surgeries to clean up his amputations. Once stable, Bullis was transferred to Balboa Naval Medical Center in San Diego, California, where he spent the next nine months in rehabilitation. Bullis returned home to Arizona in September 2011, one year after his injury occurred.

Bullis is the only triple amputee from Operation Enduring Freedom residing in Arizona. He currently resides in Peoria, Arizona with his wife, Tory, and their newborn son, Carson.