Player: Jack Lundin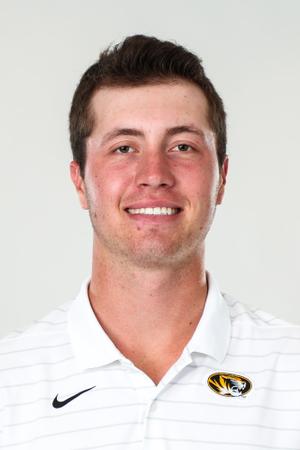 Hometown:
Sioux Falls
University:
University of Missouri
Graduation Year:
2024
Area of Study:
Business Management
Soldier Honored:
Dale A. Goetz
SOPHOMORE (2022 Spring)
• Competed in all six events, four regular season and two post-season.
• Went on a three consecutive event run of carding under-par 54-hole event scores and placing in the top-15: Auburn Tiger Invitational, Hootie at Bulls Bay, and MU Tiger Invitational.
• Paced the Tigers at the Auburn Tiger Invitational after posting his fifth event under-par this season with a 1-under 215 event score, anchored by his opening round 68. He finished at T-12.
• Fired all three rounds under-par for the first time in his career at the Hootie at Bulls Bay event to tie his career-best 54-hole event score of a 6-under 210 (70-71-69) to claim a T-7 finish.
• Carded back-to-back rounds at the MU Tiger Invitational to mark his third consecutive event under-par and top-15 finish as he shot a 212 (-4) for a piece of 8th place.
• Opened the SEC Championship with a 1-under 69 followed by a pair of 72s to round out the event with a 3-over 213 tied for 34th place.
• His NCAA Regional performance was highlighted by his final round even-par 72 score to wrap up his 10-over 226 score.
• Ended third on the team in season scoring average in his first season as a Tiger with a 71.45, just .19 behind the leader.
• Finished the season with a total tally of 15 rounds, five times the number of his previous year, and seven events under-par.
SOPHOMORE (Fall 2021)
• Competed in all five events, racking up eight rounds and four events under-par in his first campaign as a Tiger.
• Wasted no time in his debut as he fired a 5-under 67 in the opening round of the season at the Turning Stone Intercollegiate. He went on to sign off on his career-low 54-hole event score of a 6-under 210 to individually medal in third place, marking his career-best finish.
• Fired a career-low round score of a 6-under 66 at the Missouri Tiger Shootout where he ended up on top of the leaderboard.
• Secured another top-20 finish at the Rich Harvest Farms Intercollegiate after shooting a 2-under 214, anchored by his final round 4-under 68 score.
• Lundin claimed the headline spot for the Tigers as he led the way going 3-0-1 with a total of 18 birdies at the SEC Match Play event.
• Co-led the Tigers in the final event, the Steelwood Collegiate Invitational to the team's second win of the season. He carded all three rounds par or better to finish tied for 8th with a 4-under 212.
• Ended the fall leading the team in season scoring average with a 70.9.
NEBRASKA
• Produced three consecutive top-15 finishes to end the regular season.
• Carded his career-best event score at the Nebraska-hosted event, Git-R-Done Husker Invitational when he shot an even-par 213 (70-72-71).
• Pocketing his first career top-five finish at the Hoosier Collegiate after finishing tied for fourth.
• Lundin helped to lead the Cornhuskers to a 7th place team finish in the loaded 17-team field after firing his career-low round score of a 2-under 70 in the final round.
• Posted the second-best scoring average on the team with a 74.67.
• Nebraska Scholar-Athlete Honor Roll (Fall 2020; Spring 2021)
PREP CAREER
• In the summer of 2020, Lundin broke the Midwest Junior Golf Championship record with a six-under 210 for the 54-hole tournament.
• Two-time South Dakota AA state champion: First title won as an eighth grader in 2015 and then clinched his second individual title as a junior, in addition to leading the way for the team title as well in 2019.
• Top-ranked player in South Dakota in the class of 2019.
• Captured the 2019 SDGA Men's State Amateur Championship, becoming the youngest player in history to win the event.
• Two-time South Dakota Junior Amateur champion (2018, 2019) and has four top-six finishes under his belt in the American Junior Golf Association.