Player: Owen Avrit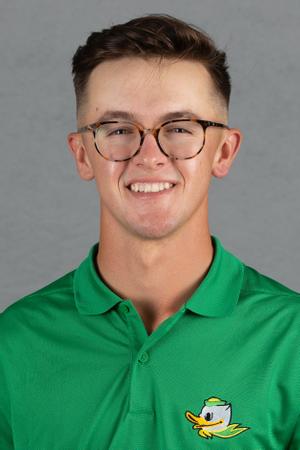 Hometown:
Arroyo Grande, California
University:
University of Oregon
Graduation Year:
2023
Area of Study:
Business
Soldier Honored:
Jude C. Mariano
JUNIOR (2021-22)
All-Pac-12 Second Team
PING All-West Region Team
Second on the team with a 71.73 stroke average ... Had seven top-20 finishes and five top 10s ... More than half his rounds were at par or better (22-of-41), with 17 round below par ... Led team with 123 birdies ... Consistent fall with three top-25 finishes, including one top-10 ... Averaged 70.25 strokes per round in four tournaments ... Was under par in seven-of-12 rounds played ... Maui Jim Invitational: Set career best with a 10-under 200 (70-66-64) to finish tied for 12th ... Final round 64 (6-under) matched his career low round ... Tied for eighth at the Husky Invitational to lead Oregon (70-70-71-211/5-under) ... Finished fall with his third top-25 finish in four tournaments at the Saint Mary's Invitational ... Recovered from a opening 77 with rounds of 66-70 to finish at even-par 213 to help Oregon win the team title at Saint Mary's for the first time since 2011 ... Had run of three straight top-15 finishes early in the spring season ... Tied for ninth at The Prestige (70-79-70-219/plus-6) ... Tied for sixth at the Bandon Dunes Championship (68-76-68-213/Even) ... Tied for 13th at the Duck Invitational (72-72-73-217/plus-4) ... Had two exceptional tournaments in postseason play where he tied for 10th at both the Pac-12 Championships and the NCAA Stockton Regional ... Shot a 2-over 286 at the conference tournament (71-72-70-73) and a 7-under 209 (70-68-71) at the NCAA Regional .. Carded an even-par 70 in the second round of the NCAA Championships ... Qualified for the 2022 U.S. Amateur and advanced to the first round of stroke play.

SOPHOMORE (2020-21)
Pac-12 Honorable Mention All-Newcomer
Ended the year with a 73.32 scoring average over 25 rounds … Played in eight tournaments, all as a part of the lineup … Turned in one top 10 finish and a pair of top 20s … Shot in the 60s three times while delivering a counting score in 20 of his 25 rounds … Had a scoring average of 71.75 in the third round, nearly two strokes better than his overall scoring average … Arizona Intercollegiate (Jan. 25-27): Highest finisher on the team in his Oregon debut, coming in tied for 10th at 3 over, closing with rounds of 1-under 70 and 4-under 67 to bounce back from a 79 in the opening round … The Prestige (Feb. 15-17): Came in tied for 29th at 4 over, turning in another strong final round with a 1-under 70 in round three … Western Intercollegiate (Apr. 12-14): Finished tied for 26th at 7 over, going 75-70-72 under difficult conditions … Pac-12 Championship (Apr. 26-28): Broke par in three of the four rounds to finish tied for 13th at 6 under … Shot 4-under 68s in rounds one and three and closed with a 2-under 70 while shooting a 76 in round two.

BEFORE OREGON
Played the 2019-20 season at Long Beach State … Finished with a 71.80 scoring average, appearing in all seven events … Posted six under par rounds, including five rounds in the 60s … Took home a share of medalist honors in first collegiate tournament, finishing 6 under at the Husky Invitational … Followed that up with a tied for ninth place finish in the Nick Watney Invitational, going 8 under highlighted by a 7-under 64 in the final round … Recorded top-30 finishes at the Pacific Intercollegiate (T22nd) and the Arizona Intercollegiate (T27th).

HIGH SCHOOL / JUNIOR GOLF
Took home the 2018 FCG International Junior Championship title at 1 under, winning in a five-hole playoff … Won the 2017 FCG World Series NorCal Championship, finishing 1 under highlighted by a 4-under 68 in the opening round … A four-time all-league selection at Arroyo Grande High School … Named the Mountain League MVP as a senior in 2019 … Selected league MVP after helping Arroyo Grande to a Pac-8 League title as a junior.