Player: Bohyun Park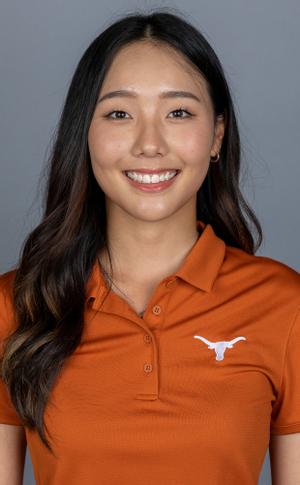 Hometown:
Dallas, Texas
University:
University of Texas at Austin
Graduation Year:
2025
Area of Study:
Communication and Leadership
Soldier Honored:
John Linde
PRONUNCIATION: B-OH-yun
HONORS AND AWARDS
• Big 12 Commissioner's Honor Roll (Fall 2021)
• Golfweek Secon Team All-America (2022)
• WGCA Second Team All-American (2022)
FRESHMAN (2021-22)
• Earned second team All-American honors from the WGCA
• Played in 11 tournaments and 34 rounds, with a stroke average of 72.65
• Posted a team-best 15 rounds of par or better
• Tabbed five rounds in the 60s
• Turned in seven top-20 finishes, four top-10 finishes and three top-five finishes
• Tied for 17th at the NCAA Championship at five-over-par 293 [76-68-77-72]
• Finished in the top-10 at her first collegiate tournament with a tied for 10th placement at the Annika Intercollegiate at two-under-par 214 [73-73-68]
• Placed in the top-five at her second collegiate tournament with a third-place finish at the Windy City Collegiate Classic at one-under-par 215 [68-74-73]
• Registered a season and collegiate-best runner-up finish at the Darius Rucker Intercollegiate at two-under-par 211 [70-70-71]
• Helped lead the Longhorns to a win at the Big 12 Championship with a tied for third place finish in the individual standings
• Shot a season and collegiate best round of 68 at three straight tournaments, including the third round at the Annika Intercollegiate, the opening round at the Windy City Collegiate Classic and the final round at Stanford.
• Tied her season best round during the second round at the NCAA Championship
• Member of Fall 2021 Big 12 Commissioner's Honor Roll
• Tied for second among the amateur competitors at the LPGA Chevron Championship

PREP
• American Junior Golf Association (AJGA) All-American
• Two-time Texas Girls Coaches Association (TGCA) Golfer of the Year (2019, 2021)
• Four-time North Texas High School Golf Coach Association (NTHSGCA) Player of the Year (2018, 2019, 2020, 2021)
• In the Summer of 2021, finished top three in a U.S. Open Qualifying tournament where she clinched a berth in the touted U.S. Women's Open as an 18-year-old
• Competed as an amateur in U.S. Women's Open in 2021
• Competed in the U.S. Women's Amateur in 2018 and 2019 and the U.S. Women's Junior Amateur in 2019
• Three-time Texas 4A individual State Champion
• Three-time Texas 4A individual District (10) and Region II Champion
• Also posted two top-four finishes at the AJGA Girls Championship (3rd in 2018, 4th in 2019)
• Won 35 of the 37 High School events she entered during her career
• Recorded a career-best round of 60 at the Jesuit Dallas Invitational Tournament in 2019
• Carded a rounds of 62 and 64 at the 4A State Championship in 2019 sand a 63 at Regionals in 2019
• Had a career scoring average of 68.22 (2018: 69.1, 2019: 66.5, 2020: 69.0, 2021: 68.3)
• 2021 Academic All-State
PERSONAL
• Father is Ju Ha Park.
• First name is Bohyun, but goes by Bo.
• Born September, 18, 2002 in South Korea.
• Also lived in Saudi Arabia and New Zealand.
• Moved to the United States when she was 13 years old.
• Began her athletic career as a figure skater before taking up golf at the age of 10.
• Ranchview High School Senior Pride of The Pack Award Winner for Perseverance.
• December 17, 2021 was celebrated as Bo Park Day at Ranchview High School.
• Majoring in Communications.