Player: Mahanth Chirravuri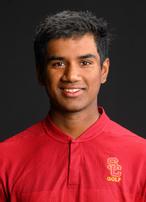 Hometown:
Chandler
University:
USC
Graduation Year:
2026
Area of Study:
Bussiness
Soldier Honored:
Rafael Martinez
HIGH SCHOOL
• Chirravuri graduated from Hamilton High in Chandler, Ariz., where he was a Rolex All-American.
• Was among the top-ranked recruits in the country, reaching No. 5 in the Rolex/AJGA rankings and No. 1 in Arizona.
• A 2020 Rolex/AJGA All-American honorable mention selection, he won the Arizona state title in 2020 at 10-under and helped his school to state team titles in 2019, 2020 and 2021, finishing third individually in 2021.
• He tied for 33rd at the 2022 Western Amateur Championship and tied for 9th at the 2022 PING Heather Farr Classic.
• Was a member of the 2022 and 2020 Wyndham Cups, playing for the West squad. He teamed with current Trojan Gavin Aurilia in leading a junior squad of Arizona golfers win the 50th Hogan Cup in 2018.
• Boasts seven top 5 finishes in AJGA events, including a trio of runner-up efforts at the PING Heather Farr Classic, the AJGA Junior at Superstition and the AJGA Longbow. He also won 10 times on the Junior Golf Association of Arizona Tour.

PERSONAL
• Chirravuri is undeclared.