Player: David Nyfjäll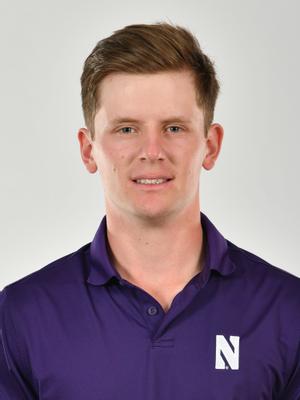 Hometown:
Uppsala
University:
Northwestern University
Graduation Year:
2023
Area of Study:
Statistics
Soldier Honored:
Edwin A. Rivera
2021: Preseason Big Ten honoree ... Tied for sixth at the Spartan Collegiate, finishing four-under par (Mar. 8-9) ...

2019-20: Big Ten Preseason Honors List... Earned a top-30 finish at the Windon Memorial (Sept. 16-17)...Shot an-even par round in the Olympia Fields Invitational (Sept. 22). Had the title clinching birdie in Big Ten Match Play tiebreaker over Penn State...Carded a 5-under score at Desert Mountain for a share of fourth place, his sixth career top-5 finish... Named GCAA Division I PING All-Region Team

2018-19: Big Ten Freshman of the Year...First Team All-Big Ten...Finished tied for 25th place at the Marquette Intercollegiate, with eight birdies in his last round ... Boasted a 4-over in his debut performance for a share of 33rd place at the Windon Memorial Classic...Two time Big Ten Player of the Week..Shot 11-under to tie for first at Chatham Hills...Earned back-to-back individual titles after shooting 5-under 211 at the UNCG/Grandover Collegiate. Finished even at Desert Mountain Intercollegiate to tie for 8th place. Shot 6-under to tie for third in the weather shortened Boilermaker Invitational...Had a top-10 finish after carding an even par on the third day of Big Ten Championships for a share of 11th place. Shot a 3-under 213 (73-69-71) in his first NCAA Regional appearance. Finished his rookie campaign with a 71.72 stroke average, the lowest average from any first-year in program history and the eighth best single-season stroke average.

Junior Career: Winner of the Swedish Junior Match Play Championship and Junior Masters Invitational in 2017 … Finished in third place at the German Boys' Open (2017) … Semifinalist of the 2016 Boys' Amateur Championship … Won the Finnish International Junior Championship in 2013 … As a member of the Swedish National Team, finished in fourth place at the European Boys' Team Championship in 2017 … Placed third with Upsala GC at the 2017 Swedish National Club Championship … Winner of the Jacques Léglise trophy in 2017 with the Continent of Europe team.

Personal: Son of Mats and Ulla Nyfjäll … Full name David Andreas Nyfjäll … Born on January 26 … Enjoys playing the piano … Undecided on Northwestern major.