Player: Jack Dudeck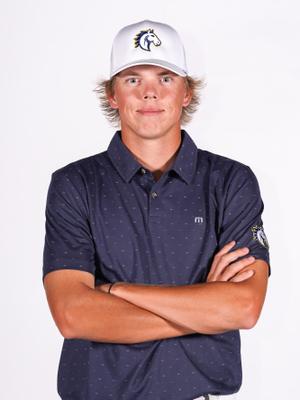 Hometown:
Fargo
University:
The Master's University
Graduation Year:
Fall 2022
Area of Study:
Finance
Awards:
o NAIA National Championship Runner-Up (2022)
o NAIA First Team All-American (2021-22)
o 2x GSAC individual champion (2021, 2022)
o All-GSAC Team (2020-21, 2021-22)
o NAIA Ping All-West Region (2020-21, 2021-22)
o Individual Champion, Lake Tahoe Intercollegiate (2019)
o Individual Champion, TMU Spring Invite (2021, 2022)
o Individual Champion, TMU Dutch Invite (2021)
2020-21 (Junior): Dudeck saw action in nine events and 27 rounds as a junior, winning two tournaments (TMU Spring Invite, GSAC Championships) as an individual, recording two other top-10's, two other top-20's, and nine under-par rounds overall… Won the TMU Spring Invite in a playoff after shooting two-under over three rounds… Led the GSAC Championships after all three rounds, finishing at two-under and winning by five strokes...Finished in a tie-for-fifth place individually (2-over) at the OUAZ Fall Invitational... Tied-for-fifth at the Vanguard Fall Invitational (three-over)… A top-15 finish at the Sea Beggar Invitational helped TMU clinch first place… Posted a top-20 finish in the Roadrunner Classic… Carded one of only five eagles at the Sydney Cox Invitational, where he tied-for-27th… Finished the season representing TMU at the NAIA National Championships placing 74th out of 156 players… Earned All-GSAC and NAIA Ping All-West Region Team honors.

2019-20 (Sophomore): Placed first at the Lake Tahoe Intercollegiate, his first career tournament victory… Was key for the Mustangs to clinch the title at the Westmont Invitational in which he tied-for-fifth place at 9-over... Finished in sixth place at the TMU Spring Invite with a 13-over 229, six strokes behind the winner… Posted three top-six finishes in his final four tournaments of the season.