Player: Harry Crockett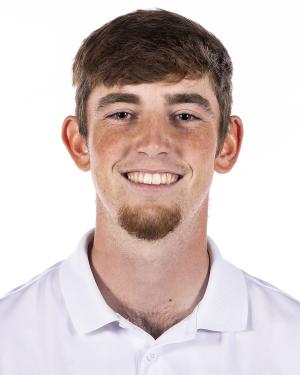 Hometown:
Oxted
University:
University of Nebraska
Graduation Year:
2025
Area of Study:
Business Management
Soldier Honored:
Wayne R. Cornell
Honors & Awards
• One Career Top Five Finish (2022)
• Two-Time NJCAA Division I Team Champion (Hutchinson CC, 2021, 2022)
• NJCAA Division I Individual Runner-Up (2021)
• All-Nicklaus Team (All College Divisions, 1 of 24, 2021)
• NJCAA All-American (2021, 2022)
• NJCAA Mickelson Most Outstanding Freshman Finalist (2021)
• NJCAA District III/Region VI Champion (2021, 2022)
• NJCAA First-Team All-Region VI (2021, 2022)
• Jayhawk Conference Runner-Up (2022)
• First-Team All-Jayhawk Conference (2021, 2022)
Sophomore (2022-23)
Crockett kicked off his Husker career at the Badger Invitational in Verona, Wisc., and made his presence felt right away. Crockett posted two solid rounds of 75-70 to shoot 145 (+1) and place in a tie for 34th in the field. He helped Nebraska to a strong fourth place finish.

Crockett's next appearance came at the William H. Tucker Intercollegiate in Albuquerque, New Mexico. Crockett put up a three round score of 222 (+6) to place in a tie for 45th place.

He saved up his best efforts for the final two tournaments of the fall. At the Purdue Invitational in West Lafayette, Ind, Crockett placed third place and shot a final round 67 (-5) to help Nebraska to a fifth place finish. Crockett followed up this performance with an 11th place finish at the White Sands Bahamas Invitational (Oct. 28-30), where he matched his career-best 67 (-5) in the second round.

Crockett competed in every tournament in his freshman fall season, compiling a 71.82 stroke average through 11 rounds. Crockett is on pace for the best stroke average in team history.

Before Nebraska
Crockett was a two-time NJCAA District III/Region VI champion and a two-time first-team All-Region VI and first-team All-Jayhawk Conference honoree in 2020-21 and 2021-22. He produced a 71.6 stroke average as a freshman, including 17 rounds under par.

Crockett also won an individual tournament title at the Jayhawk Conference No. 2, as a precursor to his Jayhawk Conference runner-up performance. He closed the Jayhawk No. 2 Tournament with a three-round total of 198 (-15) that included a second-round 62 (-9).

Crockett added a 10th-place individual finish at the NJCAA National Preview in Odessa, Texas, in November.

Crockett was a first-team NJCAA All-American after earning an individual runner-up finish to power Hutchinson to its first-ever NJCAA men's golf title. He added a third-team NJCAA All-America award as a sophomore while powering the Blue Dragons to a second straight national championship.

Personal
Harry's older brother, Charlie, was a teammate on Hutchinson's national championship team in 2021. Charlie is a golfer at Missouri. Harry plans to major in management at Nebraska.