Player: Greyson Leach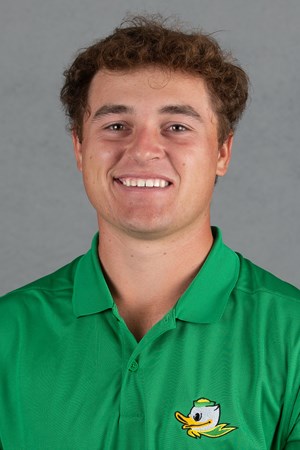 Hometown:
Rolling Hills Estates
University:
University of Oregon
Graduation Year:
2025
Area of Study:
Business Administration
FRESHMAN (2021-22)
2021 Husky Individual Invitational Medalist (T1)
Pac-12 All-Freshman Honorable Mention
Third on the squad with a 72.19 scoring average ... Had three top-10 finishes ... Nearly reached 100 birdies on the season (98) ... Averaged 71.44 strokes per round in three fall tournaments ... Carded three sub-par rounds at the Husky Individual Invitational (Sept. 20-21) to tie for medalist honors at 6-under 210 ... Opened with back-to-back rounds of 68-68 before closing with a 70 ... Great showing at the Bandon Dunes Invitational where he tied for fourth at 1-under 212 (69-73-70) ... Tied for seventh at the Western Intercollegiate (75-72-67-214/plus-4) ... Solid effort at the Pac-12 Championships with rounds of 68-78-78-68-292/plus-8 ... Outstanding effort at the NCAA Stockton Regional where he tied for 17th at 4-under 212, that included a season-low 65 in the second round (76-65-71) ... Opened the NCAA Championships with a 1-over 71 and then had an even-par 70 in the third round ... Qualified for the 2022 U.S. Amateur.

HIGH SCHOOL / JUNIOR GOLF
Shot a 16-under 199 to win the 2020 Inland Empire Amateur Championship ... An all-area golfer for Peninsula High School ... Named the 2021 Peninsula High School Booster Club male athlete of the year ... Posted a runner-up finish at the 2021 CIF sectional to advanced to the state tournament.