Player: Bartley Forrester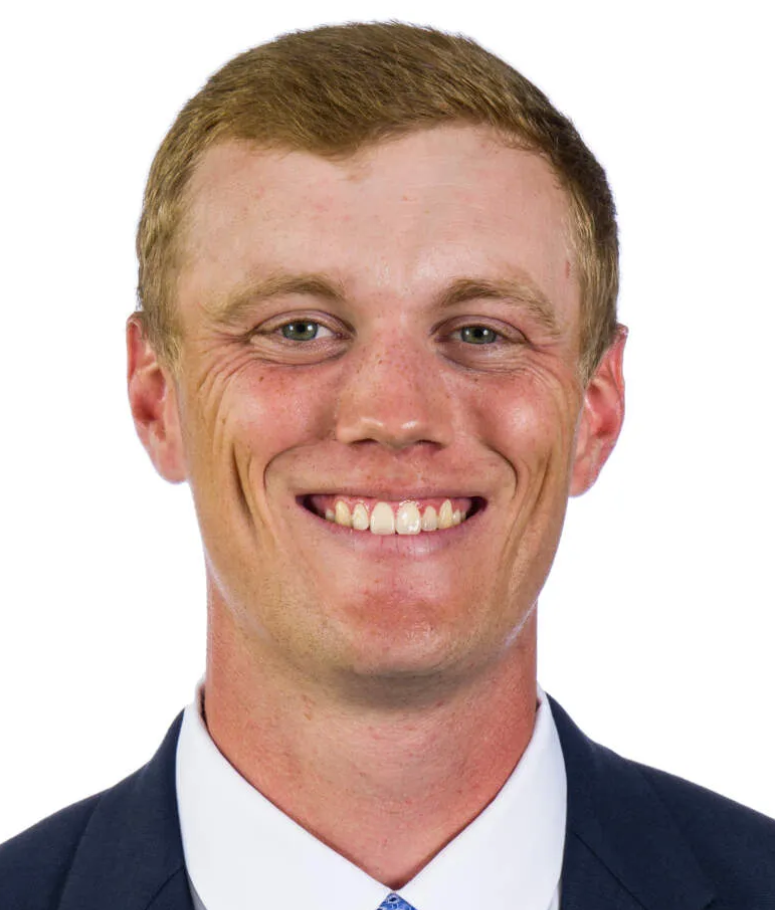 Hometown:
Gainesville, GA
University:
Georgia Tech
Graduation Year:
2023
Area of Study:
Business Administration
Soldier Honored:
Jonathan R. Farmer
• GCAA All-American (honorable mention) – 2022
• GCAA All-East Region – 2022
• All-Atlantic Coast Conference – 2022
• The Calusa Cup co-champion – 2022
• Puerto Rico Classic co-champion – 2022
• Monroe Invitational champion – 2022
• GCAA All-America Scholar – 2021, 2022
• ACC All-Academic team – 2022
General: One of the state of Georgia's top golf prospects and a star student who enrolled at Georgia Tech on the heels of a standout prep and junior career … Redshirted in 2018-19, and has developed into one of the Yellow Jackets' most accomplished players … Began to earn regular playing time in the spring of 2020 before the season ended abruptly due to the coronavirus outbreak, and won the Puerto Rico Classic in his second career start … Ranked No. 70 in the World Amateur Golf Ranking, No. 36 in the Scratch Players Amateur Ranking, jumping more than 150 spots over the course of the spring and summer of 2022 … Listed at No. 25 in the PGA Tour University rankings … Older of two children … His uncle, Carlton, played golf at Georgia Tech from 1996-2000 and earned All-ACC honors in 1999 … Several other relatives have attended Georgia Tech … Began playing golf competitively in eighth grade (age 14) … Enjoys playing basketball, video games and table tennis … Majoring in business administration … Has earned Faculty Honors twice and made the Dean's List three times.
2022-23: Tournament Results
Tied for 24th in Georgia Tech's first fall event, the Maui Jim Intgercollegiate (205. -5).
• Forrester wins in dramatic fashion at Monroe Invitational – WHAM-TV, July 9, 2022
• Forrester hangs on to win Monroe Invitational – AmateurGolf.com, July 9, 2022
2022 Amateur Highlights: Won the Monroe Invitational in Pittsford, N.Y., by three strokes with an 11-under-par score of 269; holed out from 72 yards for eagle-2 at the par-4 17th hole to secure the victory … Tied for sixth at the Southern Amateur in St. Simons Island, Ga. (271, -13) … Qualified for U.S. Amateur for second time, was co-medalist at the U.S. Amateur qualifier in Johns Creek, Ga., with rounds of 67-69 (-8) at The Standard Club … Tied for 39th place (145, +4) in the 36-hole stroke play portion and won his round-of-64 match, 3&2, over Blain Turner … Finished third at the Dogwood Invitational in Atlanta (272, -16) … Tied for 30th at the Western Amateur in Highland Park, Ill. (284, even).
2021-22: Tournament Results
GCAA honorable mention All-America, All-East Region and All-ACC performer who enjoyed the best year of his career, posting four top-10 finishes and three other top-20s in 11 events … Earned All-America status with a top-15 finish at the NCAA Championship, posting a 6-over-par 286 total with a closing 68 … Tied for 22nd (214, -2) in ACC Championship stroke play, and won his individual match over Wake Forest's Scotty Kennon in the championship match … Tied for 40th at the Columbus Regional (219, +6) … Captured his second collegiate win at The Calusa Cup in early April, earning co-medalist honors (211, -5) … Three events prior to that included a tie for 15th at The Goodwin (205, -5), tie for 18th at the Southern Highlands Collegiate (211, -5) and a tie for fourth at the Watersound Invitational (212, -4) … In the fall, tied for sixth place at the Maui Jim Intercollegiate competing as an individual (63 in the final round) and seventh at the Hamptons Intercollegiate … No. 81 in the Golfstat ranking and No. 69 in the Golfweek/Sagarin Index, the highest positions of his career … Compiled a 18-25-4 head-to-head record against the nation's top 20 players as ranked by Golfstat … His 70.89 stroke average over a career-high 37 rounds was second-best on the team and the 12th-lowest in Tech history.
2021 Amateur Highlights: Received a spot in the U.S. Amateur field as an alternate after coming up shy on a playoff at his qualifier at Capital City Club Crabapple course; tied for fifth place (133, -7), but lost on the first extra hole to be the first alternate … Learned 10 days later that he received a spot in the field for his first U.S. Amateur … Tied for 20th place at the Monroe Invitational (280, even) … Posted a runner-up finish at the GCAA Summer Amateur Series event in Raleigh, N.C. (210, -3) … Tied for 23rd at the Dogwood Invitational (280, -8) … Tied for 33rd place at the Porter Cup (285, _+5) … Earned a solid tie for 17th at the South Beach International Amateur in December, opening with a 65 and finishing at 5-under-par.
2020-21: Tournament Results
Highest finish in five events this spring was a tie for 18th at the Amer Ari Intercollegiate … Other finishes all between 27th (Linger Longer Invitational) and 46th (Camp Creek Invitational) … Was Tech's alternate player for the ACC Championship and NCAA Tallahassee Regional, where he replaced Will Dickson in the lineup for the final round and shot 71 … Played all four rounds at the NCAA Championship, where he tied for 75th and helped Tech make the 54-hole cut … Had a 73.95 stroke average over 20 rounds (sixth on the team) … Final Golfstat ranking was No. 407, Golfweek/Sagarin rating No. 392.
2020 Amateur Highlights: Solid performances in three major amateur events … Tied for seventh place at the Palmetto Amateur in Aiken, S.C. (70-70-65-69–274, -6) … Tied for 19th at the Southeastern Amateur in Columbus, Ga. (208, -2) … Tied for 27th at the Rice Planters Amateur in Mt. Pleasant, S.C. (216, E) … Was in the field for stroke play at the North & South Amateur in Pinehurst, N.C., but failed to qualify for match play.
2019-20: Tournament Results
2019-20: Emerged as a solid member of the traveling squad in the spring after participating in two events as an individual … Captured co-medalist honors at the Puerto Rico Classic (207, -9) in his first start as a counting member of the Jackets … Followed that with a tie for 16h place at the Southern Highlands Collegiate (216, E) … Tied for 62nd place at the Golf Club of Georgia Collegiate Invitational in the fall (238, +22), and tied for 65th (217, +1) at the Amer Ari Invitational in the spring, both while competing as an individual … Posted a stroke average of 72.33 over 12 rounds, and rose to No. 154 in the Golfstat rankings, No. 124 in the Golfweek/Sagarin Index.
2019 Amateur Highlights: Tied for 16th at the Southeastern Amateur with a 1-under-par 279.