Player: Connor Howe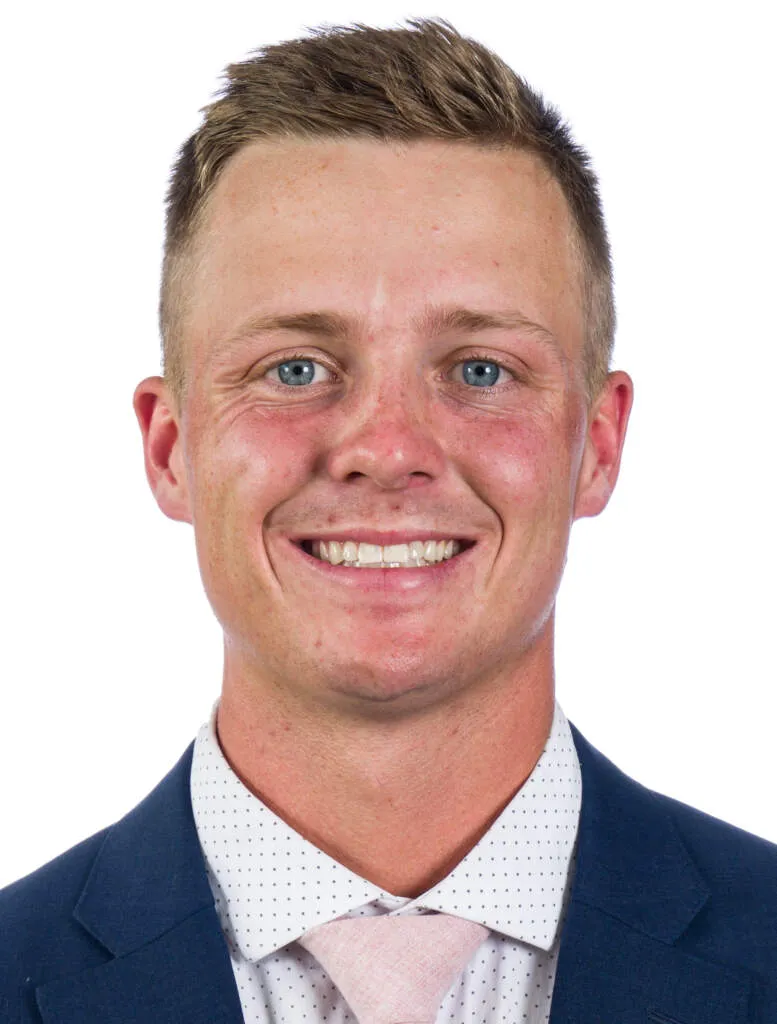 Hometown:
Ogden
University:
Georgia Tech.
Graduation Year:
2023
Area of Study:
Business Finance
Soldier Honored:
Ellery R. Wallace
• All-Atlantic Coast Conference – 2022
• Patriot All-America Amateur champion – 2021
• Southeastern Amateur champion – 2020
•
General: Has been a regular in the Georgia Tech lineup since his freshman year, mostly middle-of-the-order … Taking advantage of the extra year allowed by NCAA for COVID-19 to compete in a fifth season for the Yellow Jackets … Ranked No. 59 in the World Amateur Golf Ranking, No. 67 in the Scratch Players Amateur Ranking … Listed at No. 31 in the PGA Tour University rankings … Came to Georgia Tech after a high school career in which he earned all-state honors four times and with a top-50 ranking nationally in the class of 2018 … Highest-ranked Tech signee in that class … Chose the Yellow Jackets over Stanford, Washington, Arizona State, UNLV, UCLA, BYU and Utah … Worked his way into the Tech lineup regularly in the spring of his freshman year and has remained there … Has a twin brother, Hunter, who plays golf at Weber State and two younger siblings.
Father played college football at BYU Idaho, an aunt played college golf at Weber State, and his grandfather played professional baseball in the Philadelphia Phillies organization … His father first took him to the golf course at age 5 … Enjoys hunting and fishing, as well as playing basketball, table tennis and cornhole, in his spare time … Studying business administration at Tech … Made the Dean's List three times and earned Faculty Honors once.
2022-23: Tournament Results
Averaging 69.00 over six rounds with a pair of top-20 finishes … Tied for third in Georgia Tech's first fall event, the Maui Jim Intgercollegiate, with rounds of 65-67-65 for a 13-under-par total of 197 … Finished solo 14th at the Inverness Intercollegiate (217, +4).
2022 Amateur Highlights: Top finish has been a tie for 10th place at the Northeast Amateur (273, -3) … Tied for 18th place at the Monroe Invitational in Pittsford, N.Y. (282, +2), 33rd at the Southern Amateur in St. Simons Island, Ga. (277, -7) and 38th at the Western Amateur in Highland Park, Ill. (287, +3).
2021-22: Tournament Results
All-ACC selection who had three top-10 finishes on the year, including a tie for seventh at the NCAA Columbus Regional (212, -1), and five additional finishes in the top 20 in 12 events … Tied for 13th at The Calusa Cup and Watersound Invitational and 18th at the Southern Highlands Collegiate … Tied for 37th at the ACC Championship stroke play, won his semifinal match against Florida State's Patrick McCann (5&3) … Tied for 47th at the NCAA Championship (293, +13) … No. 3 on the team in stroke average at 71.19 across 37 rounds, and one of the nation's best players on par-5 holes (25th at 4.55) … Compiled a 14-32-1 head-to-head record against the nation's top 20 collegiate golfers as ranked by Golfstat … No. 39 in the PGA Tour University ranking, No. 85 by Golfstat and No. 86 in the Golfweek/Sagarin Index, the highest rankings of his career … Tied for 7th at the Windon Memorial Classic and the Hamptons Intercollegiate, and tied for 19th at the Maui Jim Intercollegiate in the fall.
2021 Amateur Highlights: Recorded a three-stroke victory in the Patriot All-America Amateur Championship in December, firing rounds of 66-66-63 for a 15-under-par total of 195, winning by three shots … Tied for fifth place at the Southern Amateur in West Point, Miss. (271, -13), which included a second-round 62 … Tied for seventh place at the Monroe Invitational (276, -4) … Tied for 11th at the Dogwood Invitational (275, -13), which included a second-round 61.
2020-21: Tournament Results
Tech's highest finisher at the ACC Championship, solo ninth place, with a 3-under-par score of 207 … Tied for 21st at the NCAA Tallahassee Regional (215, -1) … Tied for 71st at the NCAA Championship and helped Tech win a playoff vs. TCU to make the 54-hole cut … Ranked No. 173 nationally in the Golfweek/Sagarin Index, No. 222 in Golfstat … Earned his first career top-10 finish with a tie for seventh at the Amer Ari Intercollegiate, tied for 19th at the Wyoming Desert Intercollegiate, finished 26th at the Linger Longer Invitational and tied for 23rd at the Calusa Cup … Had Tech's third-best stroke average at 72.61 in a team-high 31 rounds … Career stroke average of 72.67 over 76 rounds.
• Georgia Tech's Connor Howe chips-in on final hole to win Southeastern Amateur – Golfweek, July 23, 2020
• Jackets' summer buzz muted by spring cancellation – Global Golf Post, August 1, 2020
2020 Amateur Highlights: Won three tournaments either outright or shared, and lost a playoff for the win in a fourth event … Captured the Southeastern Amateur in Columbus, Ga., by a stroke (199 -11), chipping in from just off the green for a birdie on the final hole … Closed a strong 2020 with a tie for ninth place at the Patriot All-America in Arizona (208, -2) … Finished 19th at the Carolina Trace GCAA Amateur (222, +6). … His other three events were local and regional events near his hometown of Ogden, Utah … Tied for first place in the Thanksgiving Point Amateur Championship, won the Hill Air Force Base Invitational and lost in a playoff at the Rocky Mountain Amateur.
2019-20: Tournament Results
Played in five stroke-play events, compiling a 73.67 stroke average in 15 stroke play rounds, missing only the Olympia Fields Collegiate in the fall … Helped Georgia Tech to the championship of the Cypress Point Classic; teamed with Noah Norton for a 4 & 3 win over UCLA in foursomes, went 1-1 in his matches … Made the Tech lineup for the Golf Club of Georgia Collegiate Invitational, tying for 52nd place (225, +9) … Competed as an individual in the Carpet Capital Collegiate, tying for 31st place (224, +8) … Tied for 70th at the Amer Ari Invitational (218, +2) to open the spring, then tied for 13th at the Puerto Rico Classic (212, -4) and 53rd at the Southern Highlands Collegiate (226, +10).
2019 Amateur Highlights: Tied for 29th at the Dogwood Invitational (282, -6) … Finished 44th at the Porter Cup (286, +6).

2018-19: Tournament Results
Played in all 11 Tech events since missing out on the fall opener at the Carpet Capital Collegiate, and steadily improved in the spring season … Posteda 72.23 average in stroke play events, playing No. 5 in the Tech lineup for the last seven events after competing as an individual for three tournaments … Posted his top finish of the year at the ACC Championship, tying for 14th (212, -4) … Tied for 17th at the NCAA Pullman Regional (204, -6) … Tied for 22nd at the Clemson Invitational (212, -4) right before the ACC … Tied for 29th at the Golf Club of Georgia Collegiate for his top finish in the fall … Finished the spring No. 226 nationally in the Golfweek/Sagarin Index, No. 234 in Golfstat.
2018 Amateur Highlights: Won the Trusted Choice Big "I" National Championship at Daniel Island Club, S.C., by three shots (281, -7) … Tied for 31st (+12) at the Monroe Invitational in Pittsford, N.Y., and for 46th at the Sahalee Players Championship in Sammamish, Wash.

Junior Golf: Ranked No. 41 in the Class of 2018 and 168th overall by Golfweek … Listed No. 110 in the class of 2018 (No. 2 in the state of Utah) and 190th overall by the Junior Golf Scoreboard … Won the AJGA Hale Irwin Junior in 2017, and finished in the top 10 in four of 10 junior golf events since the beginning of 2017, including a runner-up performance in the FCWT Junior Tournament in Phoenix, Ariz. … Other top-10 finishes included the AJGA Project Worldwide Championship in Palos Verdes, Calif., and the Golfweek West Coast Junior Invitational … Also earned top-10 finishes in the AJGA PING Heather Farr Classic and the FCWT at Grayhawk Raptor.
High School: Four-time all-state and all-district performer for coach Kory Woodland at Weber High School in Pleasant View, Utah, Lettered four years, serving as team captain all four years … Won the Utah individual state championship in 2016 and 2017 … Led Weber HS to district titles in 2016, 2017 and 2018 … Shot a state-record low score of 62 (-10) in the 2015 state high school championship.