Player: Becca DiNunzio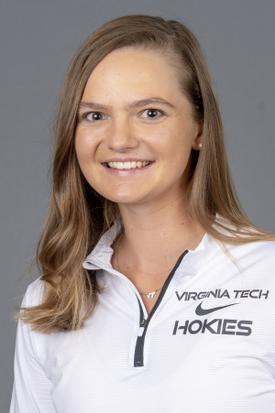 Hometown:
Virginia Beach, VA
University:
Virginia Tech
Graduation Year:
2023
Area of Study:
Neuroscience
Soldier Honored:
Caryn Nouv
2021-22 Season: Finished second on the team in scoring average at 74.65 … Led the way for the Hokies in the opening event of the season where she tied for 19th at the Wolverine Invitational … Had four top-20 finishes on the year including the Columbia Classic, where she finished a career-best tied for second … Scored her lowest round of 66 in round two of the Ruth's Chris Tar Heel Invitational where she finished 6-under par and tied for third ... Carded nine par-or-better rounds as a junior, the second-most on the team ... VaSID All-State Second Team ... WGCA All-American Scholar.
2021 Season: Joined teammate Emily Mahar as the first-ever Hokies to be named All-ACC ... Led Tech with a 72.67 scoring average, which ranked ninth in the ACC ... Team-high 12 par-or-better rounds ... As a sophomore, she posted a team-high six top-20 finishes, including a sixth-place showing at the Heroes Ladies Intercollegiate (4-under 212) ... Top Tech golfer at the ACC Championship, tying for 11th at 1-over 217 ... Ranked 63rd in the country by Golfstat ... All-ACC Academic Team honoree ... VaSID All-State First Team.

Fall 2020 Season (Individual): Claimed the women's title at the GCAA Kingsmill Amateur in Williamsburg, VA, finishing third overall in the coed event ... Finished second at the 2020 Women's Griffin Amateur at Grandover Resort .. Finished third among women at the GCAA Pinehurst Amateur, finishing 28th overall in coed event ... Tied for seventh at the 2020 Golfweek Caledonia Amateur Women's Tournament in Pawleys Island, South Carolina.

2019-20 Season: Named a 2020 WGCA All-American Scholar ... Fifth on the team in scoring average as a freshman ... Posted three Top 20 finishes, including a season-best 14th at the final event of the spring, the Gators Invitational ... Finished tied for 17th at The Landfall Tradition and the Princess Anne Invitational.

Amateur Golf: Won 2021 VSGA Women's Am at Evergreen CC in Haymarket, Va.; defeated Alexandra Austin, 5&4, in the championship match ... Named 2020 VSGA Women's Golfer of the Year ... Won the 2020 VSGA Women's Stroke Play Championship at Kingsmill, defeating teammate Emily Mahar in the second hole of a playoff ... Advanced to match play at 2020 North & South Amateur, falling to eventual champion Rachel Kuehn in the Round of 16 ... Finished second in the 2020 Donna Andrews Invitational ... Finished sixth at the 2020 Golfweek Myrtle Beach Collegiate ... Was named the 2019 VSGA Junior Girls Golfer of the Year.

Summer 2019: Won 2019 VSGA Junior Girls Championship in Virginia Beach ... Tied for ninth at Swinging Skirts AJGA Invitational ... Won 2019 AJGA Imperial Headwear Junior Classic ... Advanced to semifinal of 2019 VSGA Women's State Amateur after winning stroke play rounds.