84 ELITE GOLFERS
HONORING AMERICAN HEROES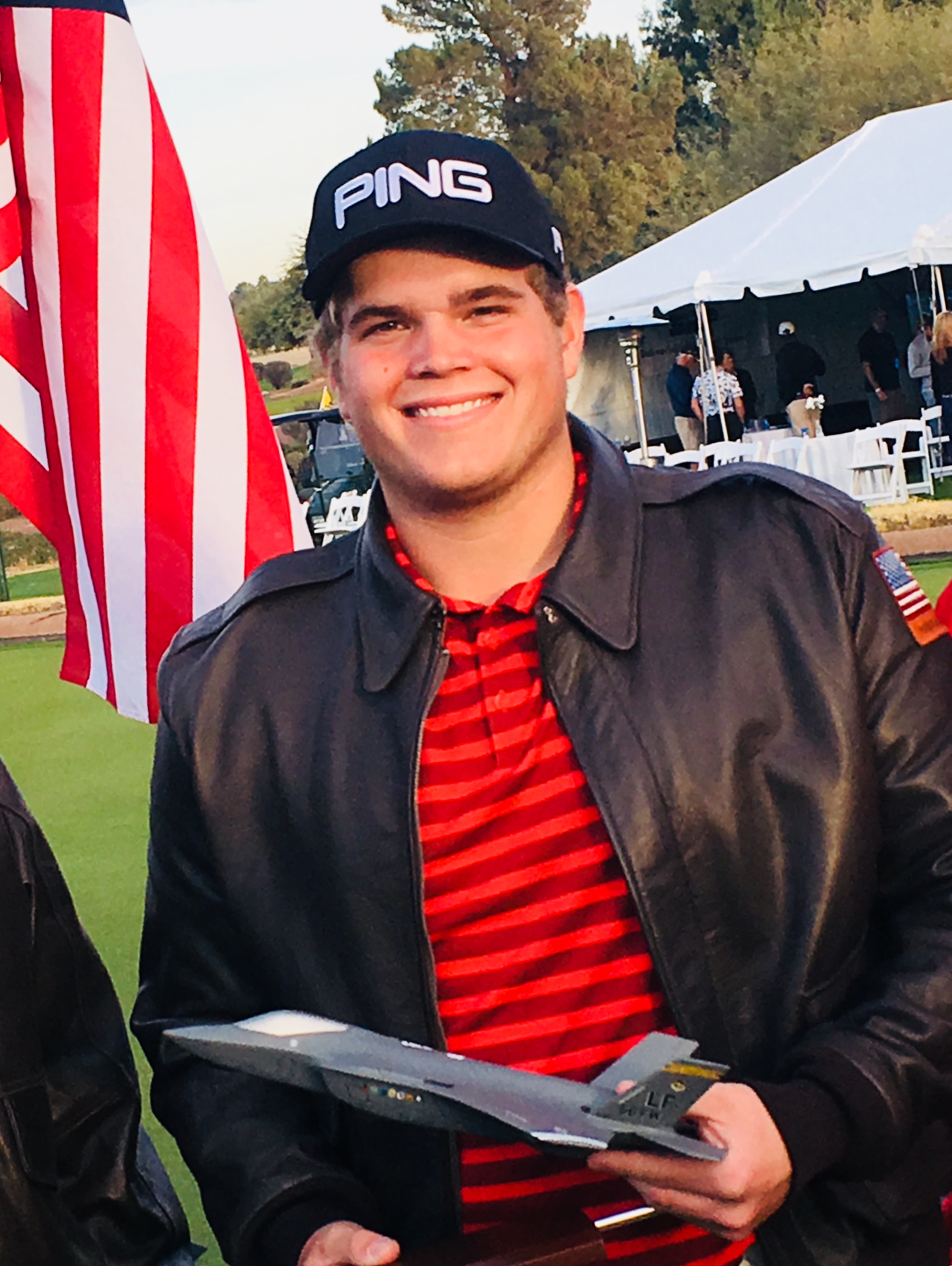 MASON OVERSTREET FROM THE UNIVERSITY OF ARKANSAS WINS 2017 PATRIOT ALL-AMERICA INVITATIONAL
Mason Overstreet, a sophomore at the University of Arkansas, shot a final round 6-under par 64 to finish at 11-under par (199) for the tournament and win the 2017 Patriot All-America Invitational at The Wigwam in Litchfield Park, Ariz. Overstreet, who is currently ranked 118th in the World Amateur Golf Ranking and is from Kingfisher, Okla., played in honor of U.S. Army Sergeant Jesse J.J. Castro. Castro was killed during Operation Iraqi Freedom when an improvised explosive device detonated near his vehicle while on patrol in Hawijah, Iraq. Each golfer playing in The Patriot All-America honors a fallen or severely injured soldier by carrying a golf bag bearing the name of that soldier. Before the tournament, participants receive a card with the soldier's story, so they can be familiar with who that person was, what they represented and how they were killed or wounded in action.
In 2011 a one of a kind event was born – The Patriot All-America Invitational featuring the best of the best in collegiate golf from every NCAA division plus special invitees. Throughout the 54-hole championship, each participant honored a fallen or severely injured soldier by carrying a bag bearing the name of that individual. This video takes you on the journey of the first five years, the emotional impact of honoring a soldier and the pressures of championship golf.
"This was a life-changing event for me. I will never think of golf the same way again. I feel so grateful for our soldiers."
Patrick Martinez
University of Michigan, 2014
A Patriot Story
It's stories like this that make this championship so special to all of us that are involved with it! Amazing young men learning about other amazing young men!
Why Folds of Honor?
Folds of Honor was founded by F-16 pilot Major Dan Rooney to provide scholarships and assistance to the spouses and children of those killed or disabled in service to America. Each year, following the Championship, the PING bags are shipped to the player's school where they are auctioned off. Proceeds from the auction are donated to the Folds of Honor. It seems a fitting tribute – students helping other students.