Player: Youssef Guezzale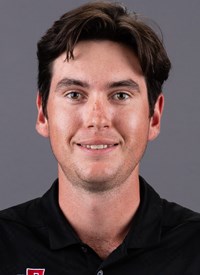 Hometown:
La Jolla, CA
University:
San Diego State University
Area of Study:
Business Marketing
Expected Graduation:
2022
Soldier Honored:
Ramon A. Villatoro
Honors
* Mountain West Men's Golfer of the Week (Jan. 29, 2021)

Career Collegiate Low 18: 66 (Sept. 28, 2018)
Career Collegiate Low 54: 207 (Oct. 8-9, 2018)

NCAA Championship
2021: T-125th at Grayhawk G.C. (79-77-71--227)

NCAA Regional
2021: T-4th at Kingston Springs (69-68-71--208)

Mountain West Championship
2021: T-8th (68-74-69--211)

2020-21 (As A Junior)
Was one of four Aztecs to play in all nine tournaments, starting eight times ... Ranked second on the team with a 72.52 scoring average ... Also was second in rounds in the 60s (8), rounds below par (10) and team count percentage (.875) ... Also had two even-par rounds ... Had two top-5 finishes and three top-10 showings.
Spring: Was the team's top finisher in two of the nine events in the spring, including the opening Southwestern Invitational from Jan. 25-27 and the Lamkin San Diego Classic from March 8-10 ... Has been in the starting lineup each of the last five tournaments ... Tied for third out of 66 golfers at the Southwestern Invitational at even-par 216, highlighted by  a 4-under 68 in the second round ... Helped the Aztecs to the team title an route to being named the Mountain West Men's Golfer of the Week for the first time of his career ... Tied for 108th the following tournament at The Prestige from Feb. 15-17 at 17-over 230 ... Competed as an individual at the Lamkin San Diego Classic (March 8-10), where he posted a SDSU-low 3-over 219, highlighted by a final round 3-under 69 ... Tied for 61st at Arizona's National Invitational Tournament (March 20-21) at 2-over 218 with a final round 1-under 71 ... Tied for 14th in SDSU's win at the Wyoming Cowboy Classic from April 5-6 at 5-under 211 ... Had two under-par rounds at the WCC, including a 4-under 68 in the first round and a 1-under 71 in the final round ... Tied for 34th at the Western Intercollegiate (April 12-14) at 8-over 218, rallying for a 1-under 69 in the final round after starting with a 76 and 73 ... Tied for eighth at the Mountain West Championship from April 30-May 1 at 5-under 211, going 68, 74 and 69 ... Was the leader late at the NCAA Kingston Springs Regional from May 17-19, but slipped to a tie for fourth at 5-under 208 ... Finished with rounds of 2-under 69, 3-under 68 and even-par 71 to help the Aztecs finish third and advance to the NCAA Championships ... Tied for 125th at the NCAA Championship from May 28-30 at Grayhawk Golf Club at 17-over 227, bouncing back from a 79 and 77 in his first two rounds with a 1-over 71 in the third round.

2019-20 (As A Sophomore)
Only competed in one event in his second season, tying for 34th as an individual at the Lamkin Grips San Diego Classic at 3-over 219, thanks to a final-round 2-under 70.

2018-19 (As A Freshman)
Played in seven tournaments in his freshman season … Had a scoring average of 74.00 in 21 rounds … Best finish of the year a tie with former teammate Aaron Whalen for 14th-place at the Alister MacKenzie Invitational, where he shot 6-under 207 … Led the team in rounds in the 60s (3) in the fall season.

As A Junior Golfer
Posted four top-10 finishes in junior events around San Diego in 2017, highlighted by a runner-up placement at the Craig Stadler Junior at Rancho Bernardo Inn … Tied for third at the 18 Greens Junior Championship at Encinitas Ranch … Landed in the eighth spot at the Phil Mickelson Junior at Twin following a ninth-place tie at the Golden State Tour Junior at Temecula Creek Inn … Also tied for third at the 2017 Hana Financial Group Se Ri Pak Junior Championship held at Butte Creek Country Club in Chico, Calif., as well as at the Toyota Tour Cup College Showcase that same year at Steele Canyon … Emerged victorious at the 2016 Future Champions Golf San Diego Challenge at Riverwalk … Also registered a pair of runner-up performances that year at the SDJCA Chris Riley Junior (15-18) at Twin Oaks and the Porzak Academy Junior at Pala Mesa.

As A Prep
Graduated in 2017 from La Jolla High School, where he earned first-team all-Western League honors as a senior after finishing third in match play at the San Diego City Championships … Captured medalist honors three times during the regular season … Tied for 12th at the 2016 CIF San Diego Section Championship and also competed in the CIF/SCGA Regional Championship.

Personal
Born in Oklahoma City, Okla. ... Son of Elizabeth Guezzale ... Lists Tiger Woods as his favorite athlete ... Is majoring in business management.