Player: Palmer Jackson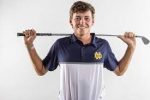 Hometown:
Murrysville, Pennsylvania
University:
University of Notre Dame
Area of Study:
Business Analytics
Expected Graduation:
2023
Soldier Honored:
Eric S. Holman
SOPHOMORE SEASON (2020-21) *Spring season only



2021 Ping DI All-Region Team selection


2020-21 All-ACC Academic Team


Was 1-of-5 lineup regulars who spearheaded Notre Dame's first team NCAA Regional appearance since 2012.


Averaged 71.67 strokes per round, which checks in as the sixth lowest in program history. Jackson now owns two season averages in the program's top-six.


Jackson & Davis Chatfield reached the semifinal round at the U.S. Amateur Four-Ball event, defeating five former USGA champs along the way.


Currently boasts the lowest career stroke average in program history at 71.25.


Produced four top-25 finishes, including one in the top-five. Jackson finished fifth at Augusta Haskins, carding a season-low 207 (-9). It marked his third career top-five finish.


Played a total of 21 rounds, finishing one-under-par. Low round of 67 (-5) at Augusta Haskins.


Finished 12th (best among Irish competitors) at the NCAA Stillwater Regional in his first postseason appearance. Carded a 216 (E).


Won the 18th R. Jay Sigel Amateur Match Play championship in June of 2021.


FRESHMAN SEASON (2019-20)
*Cut short due to Covid-19 in March


Was 1-of-the-5 regular Irish lineup members in the fall whom spearheaded the record breaking four tournament title wins in five events and a top-10 national ranking.


Contributing member to the 2019-20 squad who set a new program record for season stroke average with 282.26 strokes per round.


Nominee for the 2020 Phil Mickelson Award, which recognizes college golf's top freshman.


Recorded the second lowest season stroke average in program history with 70.79 strokes/round. Played in all 19 possible rounds.


Led the team with six top-25 finishes, three top-10s and two top-fives.


Won his first collegiate individual title at the Quail Valley Intercollegiate after firing off a 16-under par (200), which set a new program 54-hole record. It also set a new Quail Valley record as well. Jackson sealed the team tournament title with a birdie on the 18th


In addition, Jackson's second round 66 (-6) at Quail Valley marked a career low round – also tied the sixth lowest round in program history.


Finished 14-under par overall on the year with a 211.83 tournament average.


Counted 18-of-19 rounds toward the team score.


Tallied eight total rounds under-par and six rounds at even-par.


Averaged just 7.0 strokes behind the tournament leader on the season.


Posted the best run at the U.S. Amateur by a Notre Dame golfer in over 79 years, tying Tom Veech's run to the quarterfinals back in 1950. Jackson's run included knocking off Stanford national champion and 2018 U.S. Amateur semifinalist Isaiah Salinda, two-up.


PREP


Attended Franklin Regional




National Honor Society


Highest Honor Roll with Distinction


Four-year letterwinner not only in golf but baseball as well


Three-time Section Champion


County team tournament three-time champions


Averaging 34.8 strokes per nine holes as a senior


Averaged 35.14 strokes per nine holes as junior in high school







Ranked No. 20 in the Class of 2019 by Golfweek


Produced six top-10 finishes in AJGA Open Championships


Won the 2019 Memorial AJGA at Ohio State Scarlet Course with 72-73-70


Qualified for the 2019 U.S. Junior.


Won the 2019 CR Miller Match Play. Became the first person to win the event three times ('15, '17, '19).


Top 25-showings at the 2019 Sunnehanna Amateur and Terra Cotta Amateur.


Tied for second at the 2019 West Penn Amateur with 72-70-77.


Four wins against the top-25 in 2018


Two-time AJGA TransAmerica Scholastic Honorable Mention (2017, 2018)


2018 Western Regional Champion (West half of Pennsylvania)


2018 Pennsylvania Interscholastic State Champion




Played in the 2018 U.S. Amateur at Pebble Beach


Averaged 71.88 strokes in all 2018 competitive events


Two-time WPGA junior player of the year (2017, 2018)


Broke the Meadowink Golf Course record with a 62 (-10)


Finished 32nd in stroke play at the 2018 U.S. Junior Amateur, qualifying for match play


Finished 23rd at the 2018 Junior PGA Championship with rounds of 74-71-75-70.


2017 Pennsylvania Junior Championship title winner with rounds of 70-71.


2015 & 2017 WPGA C.R. Miller Match Play Champion (youngest champion ever at age 14)