Player: Jackson Van Paris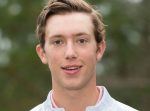 Hometown:
Pinehurst, NC
University:
Vanderbilt University
Area of Study:
Undecided
Expected Graduation:
2025
Soldier Honored:
Paul J. Flynn
Prior to Vanderbilt: 4x Rolex Junior All-American, 2020 AJGA Player Representative, and 4x NCISAA All-State Selection. In 2018, Van Paris, 14-years old at the time, became the youngest player to win a match at the U.S. Amateur since Bobby Jones in 1916. Ranked seventh nationally by Golfweek and fourth by Rolex.

Won the 2020 Sea Pines Junior Heritage, back-to-back AJGA Simplify Boys Invitational titles, and the 10th annual Junior Invitational at Sage Valley (4-under on his final nine holes of the tournament). '

Van Paris organized and hosted the Carolina Cup through AJGA's Leadership Links program, raising more than $250,000 for charity.