Player: Jackson Rivera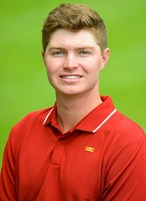 Hometown:
Rancho Santa Fe, CA
University:
University of Southern California
Area of Study:
International relations
Expected Graduation:
2025
Soldier Honored:
Stephen A. Bertolino
THIS SEASON: Jackson Rivera, a four-time Rolex All-American from Rancho Santa Fe, Calif., and one of the top recruits coming out of the state, will challenge for a starting job as a 2022 freshman.

HIGH SCHOOL: Rivera graduated from Torrey Pines High in San Diego where he was a four-time All-American. He rose to the No. 2 ranked junior golfer in California in 2020 and was top-ranked by AJGA … Rivera qualified for the 2021 U.S. Amateur … He won the 2020 Rancho Santa Margarita Amateur and also posted a pair of top 10 finishes in the 2020 fall, taking second at the 2020 PING Heather Farr Classic and tying for 10th at the Se Ri Pak Desert Junior while also tying for 14th at the Rolex Tournament of Champions. He tied for 10th at the 2019 Jones Cup Junior Invitational … In 2018, Rivera represented the U.S. at the biennial The Junior Open Championship on the Eden Course at St. Andrews and played for the West team at the Wyndham Cup. He also posted top 10 finishes at the PING Heather Farr Classic and at the Polo Golf Junior Classic.

PERSONAL: He is an International Relations (Global Business) major.