Player: Ivy Shepherd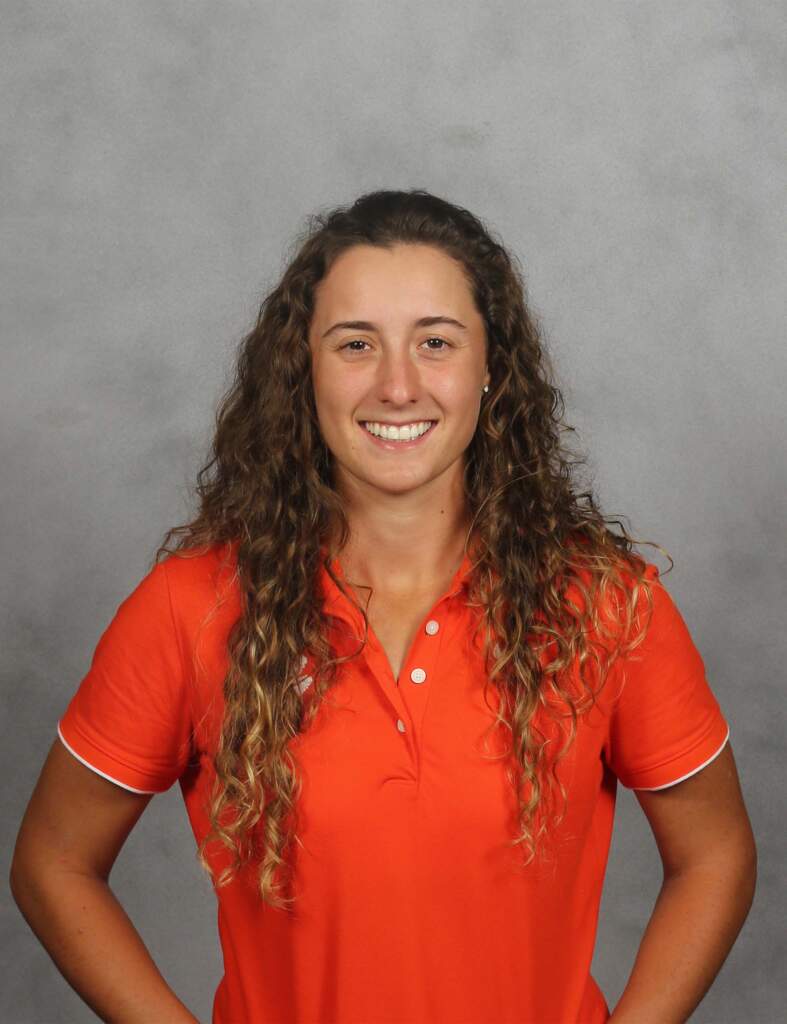 Hometown:
Peachtree City Ga
University:
Clemson University
Area of Study:
Sports Communications
Expected Graduation:
May 2022
Soldier Honored:
Joseph A McSween
Overview: In fourth year as a starter in 2021-22, she is a veteran of 23 tournaments and  67 rounds, all in the Clemson lineup…two-time first-team All-ACC, she was named as a freshman and junior (no team was selected her sophomore year due to the pandemic)…enters the 2021-22 season with a streak of 13 consecutive top 25 finishes…second in career stroke average behind Alice Hewson's 72.58 average, Shepherd stands at 72.87…has three of the top nine stroke average season in Clemson history, 72.44 as a sophomore is fourth, 72.95 as a junior is seventh and 73.07 as a freshman is ninth…also third in career rounds at par or better (28), under-par rounds (19) and rounds in the 60s (9)…fourth in top 10s (5) and birdies (203)… sixth in school history in total counting scores with 63 out of 67 rounds…already Clemson record holder in career eagles with five even though she did not have one as a junior… had career best and Clemson record tying 65 at the Schooner Classic on Sept. 28, 2019 and the Clemson Invitational on April 8, 2019… ranked 61st in the nation by Golfweek as a junior and 65th as a sophomore, best on the team both years….ranked 76th by Golfweek as a freshman, so she has been a national top 100 player all three years…Alice Hewson is only other Clemson golfer to rank in the top 100 at least three different seasons, Hewson did it all four years… joined senior Alice Hewson as only Clemson players on the All-ACC team as a freshman in 2018-19… her score has counted towards Clemson's team score in 63 of 67 rounds, 94 percent, third best in Clemson history….has had Clemson's best score of the day 25 of her 67 career rounds….has been Clemson's best player in 13 of her 23 tournaments…ranked 56th in the Golfweek world amateur rankings entering her senior year (August, 2021)….reached semifinals of the North—South Amateur in 2020 after being the medalist in stroke play qualifier.

In 2020-21:  First-team All-ACC…ranked 61st in the final Golfstat and Golfweek computer rankings for 2021… her 72.95 stroke average ranked 62nd, but she was 52nd in score vs. par with a +0.95 figure…58th in the nation in par three scoring (3.08),  65th in par five scoring (4.83) and 72nd in par four scoring (4.14)…47th in the nation in subpar strokes per round with 3.24…started all seven tournaments, she had the top stroke average at 72.95 …had a 3.08 stroke average on par three holes, sixth best in Clemson history…her 4.14 stroke average on par four holes is fourth best in Clemson history and her 4.83 average on par five holes is fourth best…led team in under-par rounds with four, she also had four at par, giving her a team best tying eight rounds at par-or-better…second on the team in birdies with 67… had season best 68, four-under-par, at the Clover Cup second round…Clover Cup was her best tournament of the year, she shot seven-under-par 209 to finish third for the 54 holes….had rounds of 69-68-72 and had season best 15 birdies…finished in the top 25 of all seven tournaments, including top 16 in five of the seven events…just 20-over-par for her 21 rounds, best on the team…her top 10 finishes were at the aforementioned Clover Cup (3rd) and the Palmetto (6th)…shot even-par at Heroes Ladies in first tournament of the year to finish 13th at 216….finished 16th at the ACC Tournament after rounds of 72-76-71…finished 22nd at the NCAA Regional in Columbus, Ohio with a 222 score….her score counted in 20 of the 21 rounds…had best score of the round seven times and was Clemson's top player at five of the seven tournaments, including both postseason events…very consistent in final rounds, shot between 71-75 in every final round this year….in summer of 2021 finished 25th at North-South Amateur stroke play with rounds of 76-71, then reached final 16 of match play before losing to Allison Corpuz of Southern California, 2 & 1….it was her third time reaching match play at the North-South, she finished as semifinalist in 2020 after being medalist in stroke play and finished in final 32 of the tournament in 2018.

In 2019-20: Led team with a 72.44 stroke average, rounds under par (7), rounds at par or better (10), rounds at 75 or better (16), and score vs. par per round (+0.78)…ranked 65th in final Golfstat rankings, 76th by Golfweek…had 4.06 stroke average on par four holes, 38th best in the nation…her three eagles tied for 15th…that tied Clemson single season record of three also held by Lauren Stephenson in 2015-16…had 47 birdies for the season, second best on the Clemson team…had round of 65 at Schooner Classic at Oklahoma, tied for 12th best round in the nation…Clemson's top golfer in all four tournaments in the fall and five of the six tournaments for the year… scored 75 or under in 16 of her 18 rounds, including all 12 rounds in the fall…14 over par for her 18 rounds for the year… had just one top 10 for the year, but five top 15s and all six tournaments in the top 25…shot even-par 216 at the Mason Rudolph to open the season, she finished 10th …finished 25th at the Schooner Fall Classic with a 214 score, her tournament featured a Clemson record tying 65 in the second round…finished 13th with a 214 score at the Ruth's Chris Tar Heel Invitational…finished the fall with 215 score and 12th place at White Sands…so, she shot between 214-216 in all four of her fall events…had pair of top 15 finishes in the spring, she was 15th at UGA Collegiate with even par 216 and 12th at the FSU Matchup, helping Clemson to season ending third place finish… she counted in 17 of the 18 team rounds for the year, she had the best round of the day 10 of the 18 rounds…had 4.06 stroke average on par four holes, 4.97 on par fives and 3.08 on par threes…Clemson's best player in five of the six tournaments.

In 2018-19:   First-team All-ACC as a freshman…third on the team in stroke average at 73.07, she was literally two total strokes from being second, as Ana Paula Valdes had a 73.03 stroke average…Shepherd was tied for second in top 10 finishes with two, tied for second in rounds in the 60s with six…had eight under-par rounds, third on the team and 10 rounds at par-or-better, third on the team…19 of her 28 rounds were at 75 or better…led the team in birdies last year with 89, she also had a pair of eagles to lead the team…42-over-par for her 28 rounds, or +1.50 strokes per round…opened her career with ninth-place finish at the Mason Rudolph with rounds of 69-73…she finished with a 142 score for two-under-par…Clemson's best player by three shots at that first tournament…had three more top 25 finishes in the fall, 19th at Schooner Classic, 11th at Tar Heel Invitational and 24th at Battle at the Beach…Shepherd was first or second at each of the first three tournaments….had her best tournament at the Clemson Invitational where she finished fifth at the rain-shortened event with a 138 score, six-under-par…that was the third best score vs. par for a tournament by a Clemson golfer all year…. she had a final round 65 at the Reserve at Lake Keowee for her low score of the year and tied for the best in Clemson history…finished 36th at ACC Tournament…had 74.4 stroke average in first rounds, but 72.9 in final rounds, second best final round average on the team…had 3.07 stroke average on par three holes, second best on the team…her score counted for Clemson team score 26 of 28 rounds…had 4.91 stroke average on par five holes, third best on the team…  had Clemson's best score of the day eight times and Clemson's best player at three different tournaments…had double digits in birdies in four tournaments with high of 12 at the Schooner in Oklahoma in the fall.

Prior to Clemson:  Shepherd ranked as the No. 1 player in the state of Georgia according to Junior Golf Scoreboard and the AJGA Rolex rankings coming out of high school…nationally, ranked seventh for the class of 2018 by Golfweek, 10th by AJGA and 14th by Junior Golf Scoreboard as of August 1, 2018…reached second round of US Junior Girls in summer of 2018, she shot 139 in the stroke play to finish fifth at three-under-par…won Georgia Junior Girls championship in 2017, finished third in 2018…. finished tied for 17th at US Junior Girls in July, she was seeded fifth after stroke play after shooting 68-71…finished tied for 17th at Polo Junior Classic with 295 score in late June…finished tied for ninth at Rome Junior Classic in May with 218 score…tied for 23rd at the Annika Invitational with 226 score…20th at Rolex Junior Championship, she had a 69 in the final round… reached Match Play at North-South Women's Amateur at Pinehurst and finished tied for 17th….as a junior, Shepherd won the GSGA Girls Championship by six shots and was a member of the winning Georgia team in the Georgia-South Carolina Girls Team Match Play….she made a birdie on the last hole to secure the team title for Georgia…. third at AJGA Girls Championship with 214 score, including final round 68…as a sophomore finished tied for first at AJGA Scott Stallings…finished fifth at the Kathy Whitworth…as a freshman, finished fourth out of 48 at the Golfweek Junior International Invitational with scores of 71-70….won Hurricane Tour events at age 13 playing up in the 15-18 division…won on SJGT Tour the last three years (2011-14)…played against former Clemson All-American Ashlan Ramsey in the 2013 Georgia Match Play Championship when she was 13…won Lady's club championship at Braelin Golf club at age 12…the fine all-around athlete was an all-state selection in basketball and her high school team has won the state title four times…played on high school basketball team that was 96-5 in her four-year career, including 69-1 her last three years…she averaged 12 points a game as a senior…had one game in which she made 10 threes to set a school record….played her high school basketball for Justin Stephens.

Personal: Born Ivy Grace Shepherd on April 6, 2000 in Nashville, Tenn…daughter of Gary and Terri Shepherd…active in community service, she raised over $1,000 for Operation Mobilization, a worldwide missionary and charitable group…raised over $2,000 for the Hudson Family Foundation, a charity founded by former Atlanta Braves pitcher Tim Hudson….collected pledges for her golf game.