Player: Davis Chatfield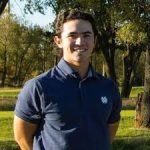 Hometown:
Attleboro, MA
University:
University of Notre Dame
Area of Study:
Film & Television
Expected Graduation:
2022
Soldier Honored:
Timothy D. Roos
ENIOR SEASON (2020-21) *Spring season only



2021 Ping DI All-Region Team selection


Was 1-of-5 lineup regulars who spearheaded Notre Dame's first team NCAA Regional appearance since 2012.


Averaged 71.62 strokes per round, which checks in as the fifth lowest in program history.


Chatfield and Palmer Jackson reached the semifinal round at the U.S. Amateur Four-Ball event, defeating five former USGA champs along the way.


Boasts the 2nd lowest career stroke average in program history with 71.79.


Produced four top-25 finishes, with his best being 11th place at the Stitch Intercollegiate.


Played a total of 21 rounds, finishing two-under-par – the best aggregate on the team.


Lowest tournament score of the year was a 208 (-8) – at Stitch. Chatfield helped his team to a 2nd place showing as the Irish shot 39-under-par, marking the second-lowest team score in program history.


Finished 16th at the NCAA Stillwater Regional in his first postseason appearance. Carded a 218 (+2).


JUNIOR SEASON (2019-20)
*Cut short due to Covid-19 in March


Was 1-of-the-5 regular Irish lineup members in the fall whom spearheaded the record-breaking four tournament title wins in five events and a top-10 national ranking.


Contributing member to the 2019-20 squad who set a new program record for season stroke average with 282.26 strokes per round.


Posted what would have been the second lowest season stroke average in program history at 70.75 strokes/round. *Only played 16 rounds and needed 18 to qualify.


Finished at 11-under par overall on the year, averaging 212.0 strokes per tournament.


Boasted an impressive second round average of 69.6 strokes.


Sealed the team victory at the Fighting Irish Classic with a clutch-par putt on the 18th Chatfield achieved his best showing of the year – fourth place with a 208 (-5).


In addition, Chatfield carded a second round seven-under par (64) at the Fighting Irish Classic, which tied the lowest score in program history.


Tallied a final round 66 (-6) at the Badger Invitational, recording four consecutive birdies on holes 13-16 to finish in a tie for sixth place.


Earned four top-25 finishes, two top-10s and one top-five.


Lone Irish golfer to count every round towards team score, going a perfect 16-for-16.


Tallied seven rounds under-par with an additional five at even-par.


Averaged 7.7 strokes behind the tournament leader.


SOPHOMORE SEASON (2018-19):


Ping Division I All-Midwest Team


Qualified for match play at the U.S. Amateur at Pebble Beach. Chatfield then defeated Ryan Smith to advance to the Round of 32.


Only competed in the fall where he posted the lowest stroke average on the team with a 71.07.


Finished under-par for three of the five tournaments played and ultimately finished five-under par for the fall.


Produced four top-25 finishes.


Best finish came at the Northern Intercollegiate, where he recorded a fourth place showing.


Shot eight-under par (205) at the Fighting Irish Classic in a 13th place effort. His eight-under was the second lowest 54-hole score on the year and ranked eighth all-time.


14 of his 15 rounds counted toward the team score (.933)


Shot nine rounds under par and one at even-par.


FRESHMAN SEASON (2017-18):


Top Irish individual at both the Fighting Irish Classic & K-State Bighorn Invitational


Best finishes: 3rd at Fighting Irish Classic (205, -5) // T-14th at K-State (211, -5) // T-12th at ACC Championships (208, -8) // T-21st at Badger (215, -1)


Earned one top-10 finish & four in the top-25


Shot a round low of 67 twice – 2nd Rd at Badger & 1st Rd at ACC Championships


Shot a 54-hole low of 208 at ACC Championships


Finished four tournaments under par


Averaged 72.75 strokes per round – 9th lowest all-time in program history


Second most consistent Irish player with 28 of his 32 rounds counting (.875)


Produced the second most rounds under par on the team with 13, including six in the 60's


High School:


Graduated from Bishop Feehan High


Lettered four years in golf under head coach Arthur Anderson


Career Highlight: Winning team and individual states junior year


Recorded a 33.6 nine-hole average in his senior year


Named a Boston Globe All-Star, Boston Herald All-Star, Eastern Athletic Conference All-Star and a Sun Chronicle All-Star


Finished second at the 2017 World Series of Junior Golf and second at the Hornblower Memorial


Achieved first place finishes at the 2016 Rhode Island Amateur, the World Series of Golf and the Attleboro Open


In 2015, won the Rhode Island Junior Amateur


Made cut at the Northeast Amateur Invitational


On the Honor Roll, along with being in both the Math & French Honor Societies


Personal:


Son of Stephen Chatfield & Anna Ison-Chatfield


Has two older brothers


Favorite hobby is going to the gym


Favorite athlete is Tiger Woods


Future career plans include becoming a professional golfer