Player: David Ford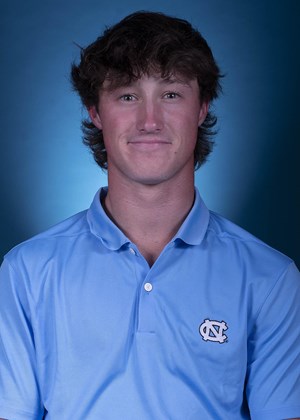 Hometown:
Peachtree Corners, GA
University:
University of North Carolina at Chapel Hill
Area of Study:
Communications
Expected Graduation:
2025
Soldier Honored:
Josiah D. Crumpler
Prep/Amateur: No. 1 player in the Rolex AJGA and Golfweek junior rankings as of 8/21 • No. 48 in the Aug. 25, 2021, World Amateur Golf Rankings • Earned first-team AJGA All-America honors in 2020 and honorable mention All-America honors in 2019 • Attended Rivers Academy in Alpharetta, Ga., where he played for Coach Charlie Anderson • A four-time AJGA champion.



2021: Was the only male player to win all four of his matches in the AJGA Wyndham Cup, which features the top 40 male and female junior players in the country in an East-West format • His 4-0-0 record helped the East win the overall competition, 29.5-20.5 • Tied for second in stroke play at the Western Amateur • Teamed with Duke incoming freshman Kelly Chinn to earn medalist honors at 16-under 127 (one off the tournament record) at the USGA Four-Ball Amateur Championship • The duo tied the championship record of 62 (-9) at The Home Course and shot a 6-under 66 at Chambers Bay in Washington • Final-round 66 to finish second at the AJGA Simplify Boys Championship at Carlton Woods • Shot 67-69 to tie for 17th at the U.S. Junior Amateur.



2020: Finished in the top 10 in all seven of his AJGA events • Won the AJGA Wyndham Invitational at Sedgefield in Greensboro, won the AJGA Junior PLAYERS Championship at TPC Sawgrass, placed third at the PING Invitational at Karsten Creek and won the Bobby Chapman Junior Invitational in a three-way playoff at the Country Club of Spartanburg • Closed with a 6-under 66 to rally from seven strokes off the lead to win the Junior PLAYERS Championship and shot a second-round 65 to win at Sedgefield • Shot 68-69–137 to tie for fifth in stroke play at the United States Amateur at Bandon Dunes (Ore.) • Also was seventh at the Dustin Johnson World Junior Championship and tied for ninth at the Georgia Amateur.



2018-19: Won the 2019 E-Z-GO Vaughn Taylor Championship and had top-10 finishes at the Press Thornton Future Masters (third in his age group), Callaway Golf/Ollie Schniederjans Junior Classic (fourth), Boys Junior PGA Championship (seventh), Rolex Tournament of Champions (seventh) and Jones Cup Junior Invitational (ninth) • Won the 2018 AJGA Junior All-Star at Butte Creek.



Personal: Son of Karen and Patrick Ford • Born Sept. 14, 2002, in Peachtree Corners, Ga., • His father played golf at Georgia State • His twin brother, Maxwell, is a freshman at Georgia • Member of the National Honor Society • Likes to play ping pong • Favorite food is sushi • Favorite vacation spot in somewhere on a golf course • Listens to rap, chill and Americano music • Favorite non-golf athlete is John Collins (Atlanta Hawks) • People he most admires are Dougie Ergood for his faith, Austin Greaser for his confidence, Coach DiBitetto for his passion and his parents for their love.



Home course is the Atlanta Athletic Club • Best career round is 10-under 62 at the 2020 AJGA Rolex Tournament of Champions • Favorite courses are Rich Harvest Farms in Sugar Grove, Ill., and UNC Finley • Favorite golfer is Justin Thomas • Best friend on another team is Amanda Sambach at Virginia • Best golf advice is from Bob Rotella's book Putting Out of Your Mind • Go-to clubs under pressure are his driver and putter • Best shot was a 3-wood over water on No. 17 at PGA National Fazio Course • Swing coach is Chris Moore • Dream golf foursome includes Jack Nicklaus, Tiger Woods and Thomas • Worked hardest this summer on his short game.