Player: Colter Kautzmann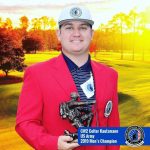 Hometown:
Trophy Club, TX
University:
University of Idaho
Area of Study:
Communications
Expected Graduation:
2008
Soldier Honored:
Brandon E. Maggart
Colter Kautzmann is an American amateur golfer. He played high school golf in Phoenix, AZ where he won the 2003 AZ 4A High School Championship shooting 68 and 69 at Palm Valley Golf Course.  Colter then went on to play collegiate golf at the University of Idaho on a full-ride golf scholarship.
Colter joined the military in 2011 and graduated Flight School in 2013. His first assignment was in Germany where he flew Blackhawks in the MEDEVAC mission for C Co. 1-214th for almost four years. In that time, he deployed once in support of Operation Enduring Freedom. In 2017, he returned to the States where he joined the Arizona National Guard allowing him to continue flying Blackhawks, now as an Instructer pilot in the MEDEVAC.
Throughout his time in the Military, Colter continued to enjoy the game of golf while playing in tournaments and improving on his God-given gifts and abilities. 
In 2019, Colter made the decision to leave the military and pursue a different career.  A change that lead him from flying Blackhawks to flying the Embraer 175 for Envoy Air, regional for American Airlines.  
Now with his free time Colter has begun to play in Amateur golf tournaments, focusing on the Veterans Golf Association. He has played in 5 events, winning all 5 including the Regional Championship at Arbor Links in Nebraska City, NE and the National Championship at the Greenbrier in White Sulpher Springs, WV. 
Colter resides in Trophy Club, TX with his beautiful wife, Sara and two daughters, Preslee (6) and Blakely (2).