Player: Leon D'Souza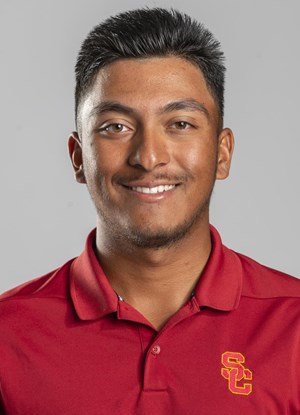 Hometown:
University:
University of Southern California
Area of Study:
Economics
Expected Graduation:
2021
Soldier Honored:
David A. Wyatt
D'Souza became the first golfer to win back-to-back NJCAA Division II men's golf titles since 1993 when he pulled off the feat for South Mountain (Phoenix Ariz.) C.C. in 2018 and 2019, earning two-time NJCAA DII Men's Golf All-American honors … He was also selected as the two-time ACCAC Player of the Year and the 2019 NJCAA Region I Player of the Year. D'Souza captured four individual ACCAC titles throughout his time at South Mountain … Following his sophomore season, he was tabbed as the 2018-19 South Mountain David Rowlands Male Student-Athlete of the Year for excellence both on the course and in the classroom … He won the 2019 national title as a sophomore with a 4-under 284 at Swan Lake Golf Resort in Plymouth, Ind., leading his Cougars to a 19-stroke team national title. D'Souza, who also won both the 2018 and 2019 NJCAA Division II Region I titles, captured the 2018 individual title with an 8-under 280, leading the Cougars to fourth overall at the Glenlakes Golf Club in Foley, Ala … He earned NJCAA All-Academic honors and was a member of the 2017-18 NJCAA Men's Golf Academic Team of the Year.