Player: Garrett Johnson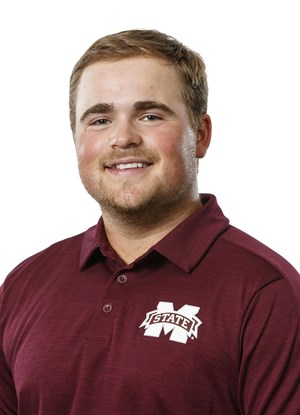 Hometown:
HAYDEN
University:
Mississippi State University
Area of Study:
Sports Studies
Expected Graduation:
2020
Soldier Honored:
Lance H. Vogeler,
2018-19: Became first Bulldog to win an event since 2017 when he earned medalist honors at the Desert Mountain Intercollegiate… Took a top-15 finish at the prestigious Carmel Cup on Pebble Beach Golf Links… Led MSU to a fifth-place finish at home with top-5 finish at the Old Waverly Collegiate Championship. The Carmel Cup (8/31-9/2/18): Shot 6-under par to finish tied for 13th against a challenging field… Shot a 69, 70 and 71 in the three rounds for a, 6-under 210 total… Buried 13 birdies and an eagle. Louisville Cardinal Challenge (9/14-16/18): Helped MSU take fifth place… Carded an even 71 in the second round. Jerry Pate National Intercollegiate (10/8-9/18): Placed tied for 18th as State's best performer… Shot an opening-round 1-under 69. Steelwood Collegiate Invitational (10/27-28/18): Part of State's runner-up finish… Opened the event with a 2-under 70. Florida Gators Invitational (2/16-17/19): Finished tied for 18th with a 2-over 212… Shot even 70s in the final two rounds… Collected 10 birdies. Desert Mountain Intercollegiate (3/9-10/19): Carded a 9-under 207 to finish as the individual medalist… Beat out four players ranked in the Golfstat Top 100… Opened with a 6-under 66… Shot a 72 in round two and a 69 in the finale… Totaled 19 birdies, four more than any other player. Schenkel Invitational (3/15-17/19): Helped State to a fourth-place finish…Shot a 3-under 69 in round two. Old Waverly Collegiate Championship (4/15-16/19): Earned third straight top-10 finish at Old Waverly… Shot a 9-under 207 to place tied for third… Shot a 3-under 69 in each round… Tallied 13 birdies. SEC Championship (4/24-26/19): Was only player in tournament with multiple eagles in stroke play, carding three… Shot a second-round 2-under 68. NCAA Louisville Regional (5/13-15/19): Carded a 2-under 69 in the final round… Holed 11 birdies.