Player: Sean Crocker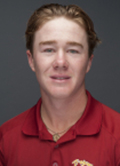 Hometown:
Long Beach, California
University:
University of Southern California
Area of Study:
Sociology
Expected Graduation:
2018
Soldier Honored:
Benjamin J. Palmer
2016: Crocker finished second on the Trojans in stroke average (72.27) as a 2016 sophomore, earning GCAA All-West Region and All-Pac-12 second team honors ... He posted five top 10 and seven top 20 finishes, including a second at the Husky Invitational at 6-under 207 (69-68-70), a second at the Southern Highlands Collegiate at 3-under 213 (70-68-75) and a second at the NCAA Albuquerque Regional at 1-over 217 (70-74-73) in tough windy conditions. He also had a tie for fifth at the Southwestern Invitational at 5-under 211 (69-68-74) and a tie for eighth at the Patriot All-American at 3-over 216 (71-73-72) ... Crocker was the only Trojan to win twice at the inaugural East Lake Cup Championship Match Play, defeating Illinois' Nick Hardy, 2&1, and LSU's Sam Burns, 3&2 ... Crocker, who was on The Ben Hogan Award watch list and ranked in the top 25 on the U.S. Arnold Palmer Cup watch list, split his NCAA Championships matches, defeating Vanderbilt's Theo Humphrey, 1up, in the quarterfinals before falling to Texas' Scott Scheffler in the semifinals, 1up ... He was named the Pac-12 Men's Golfer of the Month for March ... His 2016 summer included a win at the Monroe Invitational Championship in Pittsford, N.Y., where he posted a four-stroke win after a final-round 63. The blistering finish helped erase a tough second round as he finished at 3-under 277 (69-77-68-63). He also played at the 2016 U.S. Amateur, but did not make the Round of 64.

2015: Crocker earned PING All-American third team, GCAA All-Freshman, GCAA All-West Region and All-Pac-12 first team honors and was the 2015 Pac-12 Freshman of the Year after a standout first season with the Trojans ... Crocker led the Trojans with a 70.39 stroke average in 2015, 19 rounds in the 60s and eight top 10 finishes. Crocker's 19 rounds under 70 were the most by a Trojan since Jamie Lovemark had 20 as a 2007 freshman ... Crocker was USC's top finisher in seven of 14 events. He tied for first at the Jones Invitational with an 8-under 208 (69-73-66) before falling in the second hole of a playoff ... He was strong in the postseason, tying for sixth at the Pac-12 Championships at par 280 (72-68-72-68), taking ninth at the NCAA Bremerton Regional at 5-under 211 (66-72-73) and tying for 16th in the stroke play portion of the NCAA Championships at 1-over 289 (73-68-75-73) ... His off-season was highlighted by a run to the U.S. Amateur semifinals. He tied for 14th in the 36-hole stroke play portion at par 140 (69-71) before getting hot in match play. Crocker defeated Robby Shelton in extra holes in the round of 16 and knocked off Austin James, 2up, in the quarterfinals before falling to eventual winner Bryson DeChambeau, 4&3 ... He took second at the Sahalee Players Championship at 3-under 285 (73-74-68-70).