Player: Sam Geise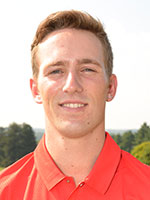 Hometown:
Springboro, OH
University:
Wittenberg University
Area of Study:
Finance
Expected Graduation:
2016
Soldier Honored:
Gary A. Eckert, Jr.


Played 27.5 rounds


Had astroke average of 74.80, with his lowest round being a 71


Finished in the Top Ten five times out of 11 tournaments.


NCAC Player of the Week (Sep 15, 2014)


Second Team NCAC


GCAA Fist-team PING ALL-Great Lake Region.


Played in a total of 13 rounds for the Tigers averaging 76.23 strokes per round.


First-team All-NCAC.


Soldier Honored: Army Sergeant Gary A. Eckert, Jr.