Soldier Honored: William S. Jackson II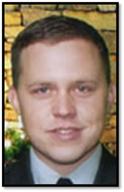 Dates:
Hometown:
Saginaw, Michigan
Branch of Service:
Army
Rank:
Staff Sergeant
Sergeant William S. "Jack" Jackson, II, 29, of Saginaw, Michigan.; assigned to the 1st Battalion, 16th Engineer Battalion, 1st Brigade, 1st Armored Division, Giessen, Germany; died Nov. 11 of injuries sustained when an improvised explosive device detonated near their vehicle during combat operations in Ramadi, Iraq. Also killed were SGT Misael Martinez and Sgt. Angel De Jesus Lucio Ramirez.



SGT Jackson served in two branches of the military, earning many awards and honors, including the Bronze Star, Purple Heart, Army Commendation Medal, and Combat Action Badge.  A compassionate man, SGT Jackson felt that he could make a difference for the people of Iraq. He attended high school in Maine and college in Wisconsin. An outdoorsman, SGT Jackson loved to be among nature -- camping, fishing, and hiking. Having grown up on the coast of Maine, SGT Jackson had a love of the ocean and often dreamed of owning his own sailboat. He also had several flight hours completed toward attaining his pilot's license. He was a proud soldier who took his job seriously and loved being part of the Army.



A fellow comrade, Jim O'Connell, stated, "Jack was a great NCO. The kind of NCO that everyone listened to and respected. He never asked anyone to do anything that he wouldn't or couldn't do himself.... Jack was an example to all of us as Soldiers and Americans. I am proud to have served with Jackson and am lucky to have been able to call him my friend."



All four of SGT Jackson's children are Folds of Honor Scholarship recipients.