Soldier Honored: Todd D. Olson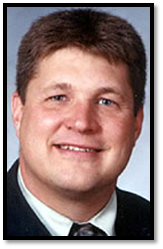 Dates:
Hometown:
Loyal, Wisconsin
Branch of Service:
Army National Guard
Rank:
Staff Sergeant
Staff Sergeant Todd Olson, 36, of Loyal, Wisconsin was assigned to the 1st Battalion, 128th Infantry Regiment, Wisconsin Army National Guard, Neillsville, Wisconsin. On December 27, 2004, while serving during Operation Iraqi Freedom, SSG Olson died in the 67th Combat Support Hospital in Tikrit, Iraq, of wounds sustained on December 26 when an improvised explosive device detonated in Samarra, Iraq.



A native of Loyal, Wisconsin, SSG joined the Army National Guard in 2003. He attended the University of Wisconsin-La Crosse and studied finance. SSG Olson worked as Vice President and Agricultural Loan Officer at M&I Bank in Loyal, Wisconsin, and had volunteered to serve as the manager of the Neillsville branch temporarily. Even after he was deployed, he asked bank employees to keep him in the loop with his customers. "That tells you the depth of his commitment, they were always on his mind," said Al Nystrom, president of the Marshfield group of M&I Bank. "He had a high sense of loyalty to his clients." He also served on the Loyal School Board, was active in the local Lions chapter, and coached youth football. SSG was a devoted father of four. He loved to hunt and watch the Green Bay Packers.



SSG Olson is survived by his wife and four children. His wife and youngest child are Folds of Honor Scholarship recipients.