Soldier Honored: Justin R. Jarrett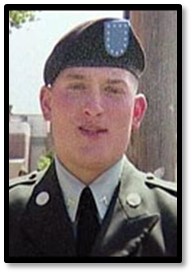 Dates:
Hometown:
Jonesboro, Georgia
Branch of Service:
Army
Rank:
Specialist
U.S. Army Specialist Justin R. Jarrett, 21, of Jonesboro, Ga. was assigned to the 7th Squadron, 10th Cavalry Regiment, 1st Brigade, 4th Infantry Division, Fort Hood, Tex.  He served as a Cavalry Scout in Iraq during Operation Iraqi Freedom. On October 2, 2006, SPC Jarrett and three soldiers were killed when an improvised explosive device detonated near their vehicle in Taji, Iraq.

A 2003 graduate of Eagles Landing High School, Justin Jarrett was a JROTC member in Gainesville, Ga., and enlisted in the Army in February of 2004. He was compassionate, loved to make others laugh – even at his own expense, generous to a fault, always inquisitive, easy going and wise beyond his 21 years.

He enjoyed tubing the river, military movies, a 1969 Ford that he purchased with dreams of restoring it, country and Latin music.  Even as SPC Jarrett planned for his future, he made it known that he was proud to serve his country, loved what he was doing, and was devoted to the men he served with.

SPC Jarrett is survived by his wife and two daughters, both of whom have been Folds of Honor Scholarship recipients.