Soldier Honored: Josiah D. Crumpler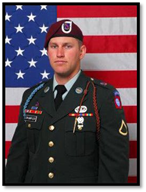 Dates:
Hometown:
Hillsborough, North Carolina
Branch of Service:
Army
Rank:
Corporal
Corporal Josiah D. Crumpler was assigned to the 1st Battalion, 508th Parachute Infantry Regiment, 4th Brigade Combat Team, 82nd Airborne Division of Fort Bragg, North Carolina.  While serving during Operation Enduring Freedom, insurgents attacked his unit using small-arms fire and rocket-propelled grenades.  CPL Crumpler, as well as SPC Matthew D. Huston were killed on March 1, 2010, in Bala Murghab, Afghanistan.

CPL Crumpler, a lifelong resident of North Carolina, had distinguished himself as an exemplary combat soldier who loved his God, his family and his country. "He had found a chance to really be what he was meant to be," brother John Crumpler said.  He is remembered from a fellow paratrooper as someone who was "constantly seeking to improve his knowledge as a soldier," said Staff Sgt. Ryan Mahoney, a squad leader in Alpha Company. "His level of commitment was not something you see every day," Mahoney said.

An active family man, CPL Crumpler enjoyed spending time with his wife and stepchildren.  He had a quick bond with the children and was known to never miss his daughter's softball games.  When remembering her father, she said "he was the father that I never had. He showed me a lot of love and respect but most of all, how important family was."

CPL Crumpler's daughter is a Folds of Honor Scholarship recipient.