Soldier Honored: Joshua R. Rogers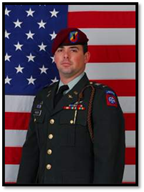 Dates:
Hometown:
Minden, Nevada
Branch of Service:
Army
Rank:
Chief Warrant Officer II
Chief Warrant Officer 2 Joshua R. Rodgers, 29, of Carson City, Nevada, was assigned to the 3rd General Support Aviation Battalion, 82nd Brigade Combat Team, 82nd Airborne Division out of Fort Bragg, North Carolina.While serving during Operation Enduring Freedom,  CW2 Rodgers died May 30, 2007 with four other crew members when the CH47 Chinook helicopter that he was co-piloting was apparently shot down by enemy fire in the Upper Sangin Valley in Afghanistan.

CW2 Rodgers joined the Army after high school, served four years as an enlisted infantryman, before moving back home to Nevada and working as a corrections officer for two years.  After the attacks of September 11, 2001, he reenlisted in the Army and became a warrant officer.  CW2 Rodgers deployed to Afghanistan in January and had previously served a year in Iraq.  For his selfless service to his country, CW2 Rodgers was awarded the Purple Heart.

Known by his fellow servicemen as the comedian, CW2 Rodgers was known for keeping everyone laughing and happy.  He was admired for having an unyielding love of all people, especially his family.  "I never met a man who loved his wife and children the way he did," Chief Warrant Officer Michael Turner said. "He will always be an inspiration to me."  CW2 Rodgers was the proud father of three girls, the youngest of which was born on the day his unit deployed.  His daughter states, "He was sweet, kind, and helpful. He accomplished having three kids, that's number one, a happy marriage and a successful career. He received a Bronze Star, a Purple Heart and many other awards for his military service, but mom says, ``my sisters and I were the grand prize."

One of CW2 Rodgers' daughters is a Folds of Honor Scholarship recipient.