Soldier Honored: Frank D. Bryant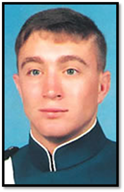 Dates:
Died April 27, 2011
Hometown:
Knoxville, Tennessee
Branch of Service:
Air Force
Rank:
Lieutenant Colonel
Lieutenant Colonel Frank D. Bryant, Jr., 37, of Knoxville, Tennessee was assigned to 56th Operations Group, Luke Air Force Base, Arizona. On April 27, 2011, Lt. Col. Bryant, died in Kabul, Afghanistan, of wounds sustained from gunfire from an Afghan military trainee.

After Lt. Col. Bryant graduated from the U.S. Air Force Academy in 1995 with a bachelor's degree in general engineering, he attended undergraduate pilot training and became a T-37 instructor pilot. Lt. Col. Bryant went on to become a decorated F-16 pilot and deployed in 2003 in support of Operation Iraqi Freedom. During his career, he earned his jump wings, senior pilot wings and a master's degree in business administration and management from Touro University. In 2008, he won the 19th Air Force Air-to-Ground Fighter Pilot Instructor of the Year award and was named the 19th Air Force Top Instructor Fighter Pilot, receiving the Gen. William R. Looney III Award. Lieutenant Colonel Bryant was a recipient of the Bronze Star Medal posthumously, Purple Heart posthumously, Air Force Combat Action Medal posthumously, among many other honors throughout his service.

Lt. Col. Bryant was brave, dedicated, and genuine. He did not have to be the loudest man in the room to be heard. When he spoke, his peers listened. Through all of his achievements, Lt. Col. Bryant remained humble and was respected by all who knew him.

Lt. Col.  Bryant's son is a Folds of Honor Scholarship recipient.