Soldier Honored: Christopher W. Eckard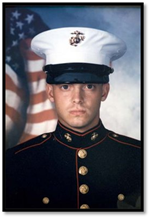 Dates:
Died February 20, 2010
Hometown:
Hickory, North Carolina
Branch of Service:
Marine Corps
Rank:
Gunnery sergeant
Gunnery Sergeant Christopher Eckard, 30, of Hickory, North Carolina was assigned to the 8th Engineer Support Battalion, 2nd Marine Logistics Group, II Marine Expeditionary Force, Camp Lejeune, North Carolina. On February 20, 2010, GySgt Eckard died while supporting combat operations in Helmand province, Afghanistan.

In 1998, he graduated from St. Stephen's High School and joined the Army National Guard. But he never forgot his lifelong dream of being a Marine and made the decision to join on May 7, 2001. GySgt Eckard started out as a combat engineer but became a specialist in IEDs, finishing at the top of his class. He pulled a total of four tours of duty in Iraq and was on his first tour in Afghanistan. In 2004 alone he decommissioned 240 bombs. In 2007, he took part in the Battle of Donkey Island near Ramadi and earned a Bronze Star nomination and was awarded a Navy Commendation Medal for aiding a wounded teammate. In addition, he was awarded two Navy and Marine Corps Achievement Medals, two Combat Action Ribbons, Navy Unit Commendation, two Marine Corps Good Conduct Medals, the National Defense Service Medal, Armed Forces Expeditionary Medal, Kosovo Campaign medal, Iraq Campaign Medal, Global War on Terrorism Expeditionary Medal, Global War on Terrorism Service Medal, four Sea Service Deployment Ribbons and a NATO Medal. He was due to come home soon and planned to change his career field to the classroom and teach other Marines about bombs.

Friends and family remember what a loving and dedicated husband he was to Ashley, devoted father to their two sons and awesome friend GySgt Eckard was.

Both of his sons are recipients of the Folds of Honor Scholarship.