Soldier Honored: Kelly Martin L. Bolor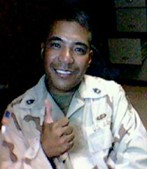 Dates:
Died November 15, 2003
Hometown:
Wailuku, Hawaii
Branch of Service:
Army Reserve
Rank:
Sergeant First Class
Sergeant First Class Kelly Martin Bolor, 37, of Wailuku, Hawaii was assigned to the 137th Quartermaster Company, U.S. Army Reserve in South El Monte, California. SFC Bolor was one of 17 soldiers killed when two Black Hawk helicopters crashed in Mosul, Iraq on November 15, 2003.

SFC Bolor, who was born in Wailuku and raised in Lahaina, was the third-oldest child in a Filipino family of five boys and a girl raised by their mother after her husband died in 1968. SFC Bolor was on the wrestling team at Lahainaluna High School and joined the Army soon after graduating in 1984, with the hope it would lead to a better education and better life. SFC Bolor was stationed in Kentucky and Alaska before he returned to Hawaii in the early 1990's and joined the Army Reserve unit in El Monte, California. Soon after, he met his wife, who also shared the name Kelly, and the two eventually moved to Whittier, California, where they raised their son. SFC Bolor's unit was called to active duty to ferry supplies to soldiers on the front lines.

"He was described as kind, genuine, humble, strong, talented, loving, and generous. His friends and family also said that he had a huge smile that was very contagious," his son said. "My family always tells me how similar I am to my father; and to be honest, nothing could make me happier. They always tell me that I look just like him or that I have his smile. He's my role model for how I want to live my life and for what a true man should be like."

SFC Bolor's son is a Folds of Honor Scholarship recipient.