Soldier Honored: Timothy D. Roos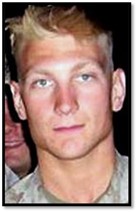 Dates:
July 27, 2006
Hometown:
Cincinnati, OH
Branch of Service:
Marine Corps
Rank:
Corporal
Corporal Timothy Roos, 21, of Cincinnati, Ohio and died on July 27, 2006 when their Humvee was destroyed by an IED during combat operations near Ramadi, Iraq.

Cpl Roos had dreamed of being a Marine since he was a small boy. "Tim always had my old uniforms on, and he always said he was going to be a Marine when he grew up," said his father. In late May 2006 the Humvee he was in ran over an IED. "The explosion shattered all the glass on the vehicle, popped all four doors open and sent shrapnel ripping through the engine," Roos was quoted saying "It's scary, and if you are not scared, there is something wrong with you...But it is our job, so you've got to do it." All troops survived that attack, but sadly, Cpl Roos was killed just a few weeks later in an eerily similar incident.

He is survived by wife Sara Roos and daughter Annaliese, an infant at the time of his death.

Corporal Roos' daughter is a Folds of Honor Scholarship recipient.