Soldier Honored: David A. Stephens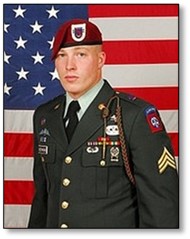 Dates:
April 12,2007
Hometown:
Tullahoma, TN
Branch of Service:
Army
Rank:
Sergeant
Army Sergeant David A. Stephens, 28, of Tullahoma, Tenn., was a combat medic assigned to the 2nd Battalion, 508th Parachute Infantry Regiment, 4th Brigade Combat Team, 82nd Airborne Division, Fort Bragg, North Carolina. On April 12, 2007, Sgt Stephens was carrying out combat operations during Operation Enduring Freedom in Miri, Afghanistan, when an improvised explosive device struck his vehicle.

A 2002 graduate of the University of Tennessee-Chattanooga, Sgt Stephens earned a bachelor's degree in Abnormal Psychology. He joined the Army in March 2005, came to the 82nd in February 2006 and at one point was selected to attend Officer Candidate School, but rejected the offer to become a medic. His mother had died of a heart attack which fueled his passion to help people.

Sgt Stephens was known for being a humorous, caring, good friend - and a Bob Dylan fan. His wife said he even brought an iPod filled with Bob Dylan's music with him on deployment.

He is survived by his wife and daughter, who was only 3 months old when he was killed. His daughter is a Folds of Honor scholarship recipient.