Soldier Honored: Michael J Bordelon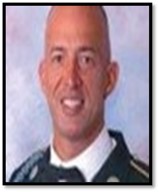 Dates:
Died May 10, 2005
Hometown:
St. Mary's Parish, Louisiana
Branch of Service:
Army
Rank:
First Sergeant
First Sergeant Michael Joseph Bordelon, 37, was assigned to the 1st Battalion, 24th Infantry Regiment, 1st Brigade, 25th Infantry Division (Stryker Brigade Combat Team), in Fort Lewis, Washington.  1SGT Bordelon was on his second tour in Iraq; serving during Operation Iraqi Freedom.  He died May 10, 2005, at Brooke Army Medical Center, San Antonio, Texas, from injuries sustained April 23, 2005, when a vehicle-borne improvised explosive device detonated near his Stryker military vehicle in Mosul, Iraq.

1SGT Bordelon graduated high school in 1986 and attended college at McNeese State University.  In high school, friends called 1SGT Bordelon "Rocky" because he looked like Sylvester Stallone.  He had the brute strength to match.  1SGT Bordelon gave fifteen years of his life to his military career.  He was on his second tour of duty in Iraq at the time of the convoy bombing.  One of his duties was to write letters to the relatives of soldiers within his unit that were killed in action.  Due to his heroic service in Iraq, 1SGT Bordelon was awarded the Purple Heart and Bronze Star.

1SGT Bordelon was a loving father to his three children. He is remembered as a good hearted and comforting person by his wife.  She also said, "He was a great husband, father and leader. He was hard working, very sensitive, but tough and always giving."  1SGT Bordelon was a man who looked on the bright side of things, and who always was looking for a way to help others.  His daughter recalls learning many things from her dad, this in particular, "the one thing that truly stuck with me that I learned from my dad was to work hard and never give up."

1SGT Bordelon's wife and three children are Folds of Honor Scholarship recipients.