Soldier Honored: Daniel L. Arnold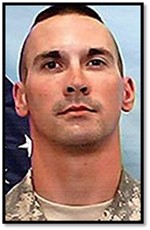 Dates:
Died September 28, 2005
Hometown:
Montrose, PA
Branch of Service:
Army National Guard
Rank:
Staff Sergeant
Staff Sergeant Daniel Arnold, 27, of Montrose, Pennsylvania and was assigned to the 1st Battalion, 109th Infantry Regiment, 28th Infantry Division, Pennsylvania Army National Guard, New Milford, Pennsylvania. SSG Arnold was killed September 28, 2005, when his M2A2 Bradley Fighting Vehicle was attacked by enemy forces using indirect fire in Ramadi, Iraq.

SSG Arnold graduated from Montrose High School in 1996. In 2000, he graduated from Johnson Technical Institute where he earned his degree in Diesel Mechanics. He enlisted in the U.S. Army Reserve as a heavy wheeled vehicle mechanic and served with distinction through 2002. He continued his service in the 1st Battalion 109th Infantry from 2002 through 2004 in both Headquarters Company and Charlie Company in New Milford with assignments as a Bradley Fighting Vehicle Turret Mechanic and Rifle Team Leader. He completed Infantry MOS conversion training in 2004 at Fort Indiantown Gap, Pennsylvania. When the battalion mobilized for deployment to Iraq in January 2005, he was reassigned to Company B, 1st Battalion, 109th Infantry in Williamsport, Pennsylvania. SSG Arnold is a graduate of the Primary Leadership Development Course. His awards include the Bronze Star Medal, Purple Heart Medal, Army Achievement Medal, National Defense Service Medal, Non-Commissioned Officer Professional Development Ribbon, Army Service Ribbon, Iraqi Campaign Medal, and Combat Infantryman Badge.

"Everything he did, he excelled at," said Janet Arnold, his mother. He and his high school sweetheart, Kimberly, were married in June 2000 and their first son was born in November 2001, later welcoming their second child in 2004. "He was an amazing father. He lived for those two boys. Everything he did was for them." SSG Arnold is survived by his wife, Kimberly and his two sons.

Both of his children are recipients of the Folds of Honor Scholarship.